The Chinese government could be set to operate as many as 10 exascale supercomputers by 2025.
Dr. David Kahaner, director of the Asian Technology Information Program, said that the country is investing heavily in building out its exascale systems - while the US currently has three systems on the way.
Exascale supercomputers are capable of at least a billion billion (1018) floating point operations per second.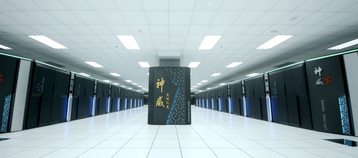 China secretly set up the world's first exascale supercomputer in 2021, and soon followed it up with a second system. The supercomputers were first reported by The Next Platform, but detailed by Kahaner a few months later.
Kahaner's research shows that 10 systems are being developed in China, he said in a presentation seen by The Financial Times. He added that due to their lead, Chinese companies are now more focused on domestic competition than on what their international rivals are doing.
However, he noted that China's lead may not be as extreme as it seems - about half of the $3.2 billion the US Department of Energy has spent on exascale computing has gone to software development, so it may be ahead on software optimization.
Other analysts have noted that, with China not detailing its systems or subjecting them to independent benchmarks, the two exascale systems may not be as powerful as they first appear.
The first exascale supercomputer, the Sunway OceanLight, is believed to be around 1.3 exaflops peak/1.05 exaflops sustained. The second supercomputer, the Tianhe-3, is capable of 1.7 exaflops peak/1.3 exaflops sustained, Kahaner said previously.
Both use semiconductors designed in China, but likely manufactured in Taiwan.
The US, meanwhile, is soon set to launch two repeatedly delayed exascale systems. The Frontier supercomputer was installed at Oak Ridge last year, and is going through testing, ahead of an expected launch in the latter half of this year. Featuring AMD Epyc CPUs and Instinct GPUs, it is expected to be capable of 1.5 exaflops.
It will be followed by Aurora, which also began installation late last year. Featuring Intel's Ponte Vecchio GPU, it is expected to be capable of 2 exaflops.
Another 2 exaflops system is expected next year, the AMD-powered El Capitan supercomputer.