Highlander has built the first commercial underwater data center facility off Hainan island in China, and wants to sell export submerged facilities to global customers, according to reports.
The Chinese company, which began building a commercial underwater data center (UDC) in February 2022, completed the build in December 2022, according to China Daily, and is now preparing the facility for live loads. Highlander says it has adapted subsea technology so it can produce commercial subsea facilities to order for potential export to other countries.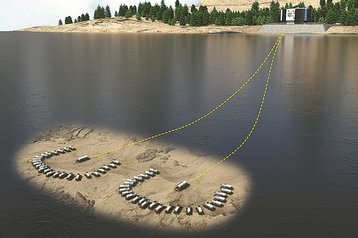 Later in 2023, Highlander will begin building a net-zero data center powered by offshore wind power, in Shanghai and Hainan. It has also received UDC orders from companies including China Telecom and Hong Kong-based AI software company SenseTime.
Underwater data centers (UDCs) are proposed as an energy-efficient and space-saving alternative to land-based facilities. They can be located close to population centers without the need for expensive land and can be cooled by seawater and potentially powered by wave energy, which is useful in tropical regions where other renewable energy is scarce.
Highlander first announced an underwater test in January 2021, in the Guangdong port of Zhuhai. During 2021, other tests took place, and a number of Chinese regions wrote the idea into their five-year plans. The commercial UDC was announced in early 2022, and is being built by COOEC in the waters just off Lingshui Li autonomous county, Hainan province/Highlander has been designated a "little giant" (a fast growth, inventive company) by China's Ministry of Industry and Information Technology.
Before Highlander joined the fray, Microsoft was the first to test the concept of UDCs, submerging its first Project Natick data center off the US Pacific coast in 2015, and serving Azure cloud loads from the sea bed. That test was followed by a two-year test off the Orkney Islands in Scotland, which ended in 2020, with Microsoft concluding that underwater data centers increased the reliability of IT hardware, by protecting it from oxygen and accidental damage.
"In seawater with relatively low temperatures, the challenge to reduce the power usage effectiveness [PUE - the ratio of the total amount of energy used to the energy delivered to computing equipment] of an underwater data center is actually not that great," Pu Ding, general manager of the UDC Hainan pilot development project at Shenzhen HiCloud Data Center Technology, a unit of Highlander, told China Daily.
The big test is to achieve efficiency in high-temperature conditions, Pu said: "The fact that our first project is carried out in Hainan, a major Chinese tropical island, demonstrates the company's resolution to face the most challenging situations and tackle relevant technical problems when designing a UDC. We chose 'hard mode' from the very beginning."
Servers in sealed watertight units can have a stable atmosphere free of oxygen and dust, with constant humidity and pressure. As Microsoft found, filling the tanks with a chemically nonreactive gas such as nitrogen improves reliability
To turn the concept into a commercial venture, Highlander has designed the system to make underwater equipment that is reliable and affordable, Pu said: "Mainstream subsea equipment in the global market is generally designed to be used more than one kilometer below sea level. However, UDCs are designed to be deployed less than 50 meters below the water's surface. Otherwise, it would be too far away from inland infrastructure and its transmission and reception efficiency will be compromised."
Systems designed for deep water use would work, but would far exceed UDC requirements, Pu explained: "It would therefore be a waste to use them in building a UDC because deepwater facilities are much more expensive than those for shallow water."
By redesigning for shallow water, Pu believes Highlander has reduced the costs of UDCs by 80 percent. The company now has a full production chain to produce "innovative and economical shallow-water facilities for its UDCs," he said: "We are confident in providing global consumers with high-end and, at the same time, economical UDC solutions."
UDCs can harness multiple sources of renewable energy, including offshore wind and photovoltaic power gathered on shore, as well as ocean energy such as ocean waves, tides, and temperature differentials into marine computing power, Pu said.
Highlander believes UDCs can be part of a marine industry cluster, providing IT support for marine farming and tourism.
Some of Highlander's partners might somewhat compromise its environmental claims: UDCs could provide computing support to offshore oil and gas drilling, said Zhang Yanfang, director of the Engineering Institute of Offshore Oil Engineering Co Ltd, a subsidiary of China National Offshore Oil Corp.