Chirisa Investments has secured a loan to fit out a data center in Chester, Virginia.
Commercial Observer reports Chirisa has landed $200 million in construction financing to develop a 242,000-square-foot (22,480 sqm) turnkey data center for AI cloud provider CoreWeave.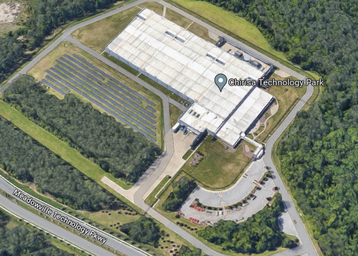 Citing sources familiar with the transaction, CO said the loan was provided by an unidentified Brookfield infrastructure fund, with CBRE as negotiators.
CoreWeave reportedly has a 12-year lease commitment at the property, with two five-year extension options
The property — at 1401 Meadowville Technology Parkway outside Richmond in Chesterfield County — offers 27MW and is part of an 88-acre campus owned by Chirisa.
The Meadowville campus was originally built for Capital One in 2013. The company announced in 2012 it was investing $150 million in building a new facility in Chesterfield County.
After Capital One exited the site, it was then taken over by Chirisa subsidiary Digital Fortress. The company relaunched the facility in May 2021, saying at the time the site had day-one availability of 18,270 sq ft (1,700 sqm) and 4.1MW of capacity in a single data hall, with a 200,000 sq ft (18,500 sqm) shell core expansion space supporting up to 25MW, ready to deliver.
Chirisa Technology Parks was then established in late 2022, at which point the investment company pivoted the site away from retail colo through Digital Fortress to focus on hyperscale/single-tenant leasing.
CO said that with shell and core developments complete, the Brookfield financing will now help Chirisa complete tenant fit-out for CoreWeave. Three new data halls will come online in October, January, and April 2024.
When fully built out, the campus could reportedly support up to 500,000 sq ft (46,450 sqm) of floorspace and up to 100MW.
Founded in 2017, CoreWeave initially focused on crypto and blockchain applications. The specialized cloud provider pivoted from cryptomining ahead of the generative AI boom, and has raised billions of dollars in investment and debt funding this year. The GPU supply shortage caused Microsoft, which hosts OpenAI, to sign a multi-billion dollar deal with CoreWeave to use its cloud service for some workloads.
CoreWave currently offers three data center regions; US East in Weehawken, New Jersey; US West in Las Vegas, Nevada; and US Central in Chicago, Illinois. The company said that it expects to operate 14 data centers by the end of 2023.
CoreWeave recently announced $1.6bn plans for a data center at a Lincoln Rackhouse-owned site in Plano, Texas, while TierPoint has signed a long-term agreement with CoreWeave to provide the GPU firm colocation services at one of its data centers.
DCD reached out to Chirisa and CoreWeave for comment.
A spokesperson for Chirisa Technology Parks told DCD: "We are very happy to support Coreweave's break-out growth and technology development at our Richmond campus. We are actively engaged with a number of large strategic customers on future developments at Chesterfield."
The Chester facility is next door to a data center that previously hosted Virginia Information Technologies Agency (VITA) infrastructure. That facility was also recently up for sale after VITA exited the site last year.