Compass Datacenters has acquired 375 acres of undeveloped land in Dallas, Texas, more than doubling its existing landholdings in the area.
Reported by BizJournal as part of its 'Best Real Estate Deals' awards, the company acquired the land in Red Oak in south Dallas' Ellis County.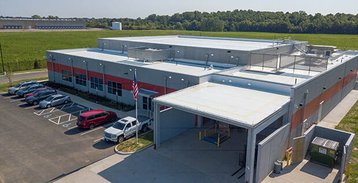 "This new campus will be big – potentially one of the largest in the nation," said Edward Bogel, partner with Davidson Bogel Real Estate, whose company brokered the land sale to the data center operator.
The purchase is close to the company's existing landholding in Red Oak which it acquired in 2019 and currently features two data centers.
Bogel also brokered the 2019 deal and said the company aims to develop up to 16 buildings.
BJ reports that in July 2021 Compass contacted Bogel related to a customer need and asked the firm to gather information on what might be available.
"Within 60 to 90 days, we assembled eight tracts from six different owners for a total of about 375 acres," said Bogel. "Red Oak was chosen for its infrastructure that is already in place and the willingness of Red Oak to work with folks. Ellis Country has been really good to work with."
Currently zoned for agricultural use, Compass Datacenters is in the process of rezoning the land with Red Oak.
Compass currently operates two sites in Texas - one in Allen in the Plano area of North Dallas, and another in Red Oak on Houston School Road.
The company acquired some 225 acres of land in Red Oak in 2020 to build out up to 350MW of data centers. That campus, located at 300 Houston School Road has one 1 million sq ft building completed with another 250,000 sq ft facility in development that was due for completion by the end of last year.
Last year saw Compass file with the Texas Department of Licensing and Regulation for a new 250,000 sq ft (23,225 sqm) data center at 481 Austin Blvd in Red Oak, close to its existing campus. The $100 million project is known as Roadrunner Building 2