Compass Data Centers is installing a micro data center beside its headquarters in Allen, Texas, where it is already building a three-facility campus.
According to Star Local Media, the City Council voted in favor of an amendment to the company's proposal to build three full-sized data centers, which was originally approved in May 2017.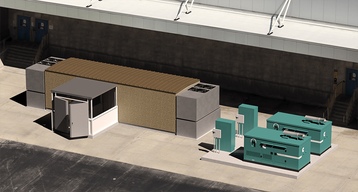 Compact data centers
Earlier this year, in an effort to broaden its data center design and manufacturing offering, Compass Data Centers bought edge data center specialists EdgePoint and BitBox, whose management and monitoring software was developed with edge computing in mind. EdgePoint was subsequently renamed Compass EdgePoint.
A micro data center has the same components as a large-scale facility in terms of compute, storage, power distribution and cooling, but at a much smaller capacity. A single Compass EdgePoint unit, as shown on Compass' website, offers space for 10 racks and 80kW of power.
As some companies and organizations now require localized, distributed compute as well as the traditional core processing, the popularity of micro data centers is rising. Typically, these would not be installed near large data centers but close to where the processing power is needed.
The deployment at Compass headquarters will consist of two 40 square meter (450 sq ft) facilities, which EdgePoint founder and CEO of Compass EdgePoint, Sharif Fotouh, said will be shown to prospective clients visiting the site.