US tower company Crown Castle has ruled out investing in data centers as part of its infrastructure portfolio.
The comments were made by Crown Castle's president, CEO, and director, Jay Brown.
He made the admission during the Goldman Sachs Communacopia & Technology Conference earlier this week, according to Seeking Alpha transcripts.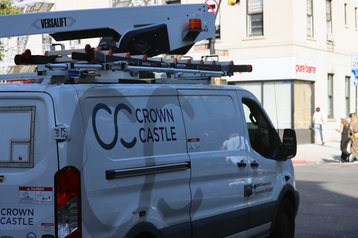 When asked about its different approach to data centers from some of its competition, Brown said investment into developing data centers wouldn't be justified for Crown Castle.
"We have historically looked at our business through the eyes of what's necessary to further wireless telecommunications. And data centers, there's not necessarily, as we see it, revenue synergies there," said Brown. "It's not that we have a view that it's not a good business. It's just that we don't see revenue synergies there in the same way that we see it with the other products that we've offered.
"We do, in a sense, because of our points of presence on the fiber side, we do have a version of data centers that are the result of some of the interconnections that we have with our fiber. But in terms of thinking about it in large box, data centers have not seen the revenue synergies that have justified the investment there."
He acknowledges that data center investment isn't necessarily bad business, but is "not a critical component for us [Crown Castle] to operate or own that."
Instead, Crown Castle will continue to focus on its towers and small cells business. The company has over 40,000 towers, 120,000 small cells on air or under contract to go on air; and around 85,000 route miles of fiber.
The approach to focus predominantly on tower infrastructure differs from American Tower which operates a number of small Edge colocation sites at tower locations in Pittsburgh, Pennsylvania; Jacksonville, Florida; Atlanta, Georgia; Austin, Texas; and Denver and Boulder, Colorado. Earlier this summer American Tower filed plans to develop a new Edge data center in San Antonio, Texas.
American Tower, a company which has traditionally focused on owning cell towers and boasts 226,000 worldwide, acquired CoreSite for $10.1 billion in November 2021. CoreSite operates around 25 data centers across the US.
The tower company said at the time that its acquisition of CoreSite will be "transformative" for its mobile Edge compute business, allowing it to establish a "converged communications and computing infrastructure offering with distributed points of presence across multiple Edge layers."
Following the acquisition, American Tower said last year that it had identified more than 1,000 sites that could support 1MW Edge data center locations.
"Over the next several months, we plan to break ground on our first 1MW Edge facility and an owned tower site to build upon our understanding of market demand and customer requirements, design a blueprint that can be rolled out at scale as the Edge ecosystem developed and demonstrate the differentiated value proposition at American Tower and CoreSite can offer potential customers," said Tom Bartlett, American Tower CEO, in November.
Meanwhile, SBA Communications launched a new Edge data center at a tower location in the Dallas Fort Worth area of Texas earlier this summer.
Despite owning over 17,000 telecom towers in the US, SBA's CEO Jeff Stoops said last year that the company had "30 to 40" Edge sites in operation or development. In the company's most recent earnings call in May 2023, that number had increased to "somewhere between 40 and 50" sites.