CtrlS is reportedly looking to triple its data center portfolio by the fiscal year 2025, increasing its number of facilities from eight to 25 and expanding internationally.
This will also involve expanding its data center footprint by around ~5 million sq ft (~465,000 sqm) from the current 1.2 million sq ft (~111,000 sqm) of space.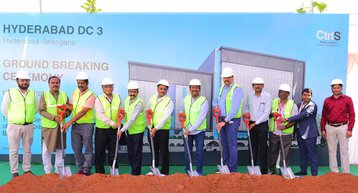 CtrlS first expressed plans to increase its footprint in early 2022. DCD reported that the company would expand to six million sq ft in the next 24 months. While making progress, the deadline has been pushed back by another year to meet this target.
In order to achieve these goals, CtrlS is currently constructing a two million sq ft (185,800 sq m) hyperscale data center park in Navi Mumbai, a similar size one in Hyderabad, and has commenced work on a one million sq ft (93,000 sq m) facility in Chennai. The three projects will add over 600MW of capacity to the company's portfolio.
Sridhar Pinnapureddy, chairman at CtrlS said of the expansion: "We are fully geared up to emerge as the world's largest [Tia-942] rated-4 data center player."
"In addition to these large DC Parks, CtrlS Datacenters is also setting up a hyperscale datacenter facility in Kolkata, which is a key gateway to Northeast," he added.
In addition to these major developments in India, CtrlS is also looking to expand into Southeast Asia and the Middle East.
The company is exploring opportunities in Saudi Arabia, UAE, Bangladesh, Thailand, Malaysia, and Vietnam, and intends these global data centers to have a capacity in the range of 10-50MW.
According to Pinnapureddy, the company's foray into these markets will be done in a 'phased manner' and will utilize 'strategic ties with local partners' where necessary.
CtrlS president and chief business officer Royce Thomas said: "Southeast Asia and the Middle East have emerged as our priority markets as digitalization is at its peak here. Several enterprises in these markets have drawn up their digital transformation roadmap, and CtrlS will enable them in their path."
CtrlS Datacenters was established in 2007. The company currently has eight operational data centers: four facilities in Mumbai, two in Hyderabad, and one each in Bangalore/Bengaluru and Noida.