CyrusOne has commenced construction of a data center in Quincy, Washington.
The company has a 45-acre plot in the Washington State city and has publicly stated it plans to build a campus there, with up to 96MW capacity, including built-to-suit facilities. It has not issued many details of its first facility, but the Columbia Basin Herald spotted activity on the site near the intersection of D Street Northwest and Road R Northwest in January and confirmed with the company that a data center is under construction there.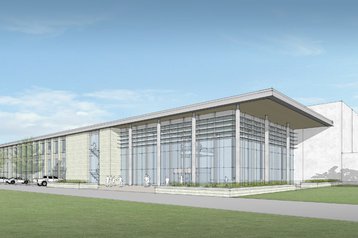 "We are currently doing some preparatory work on the property to get it ready for building," a CyrusOne spokesperson told DCD.
CyrusOne's site has a page for the Qunicy campus, with some information, and clarified for DCD that the facility will follow CyrusOne's current design which does not consume water. "This latest design includes our standard closed-loop chilled water design meaning the water that is introduced during the fill operation, will be the water that it continually recirculates."
The site links to a spec sheet, which is somewhat out of date, as it says the facility will use evaporative cooling. CyrusOne has confirmed this refers to a "previous design version" and plans to update the spec sheet (which is dated 2018).
The site says the building will be 720,000 sq ft (67,000 sqm) and features a drawing (left) of the two-story building, and a plan which shows six 60,000 sq ft halls on each floor, along with 160,000 sq ft of two-story office space.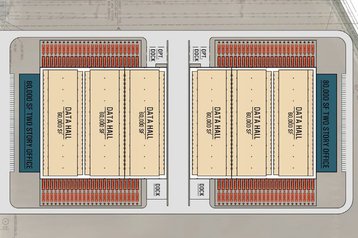 (An earlier design projected three buildings, each holding multiple 40,000 sq ft data halls, along with a proposed new substation, and three storm ponds).
Other details from the spec sheet, which may or may not be current, include a 36-inch raised white floor design, with a 20-foot ceiling height (from the data center floor), along with a promise that the facility will support up to 200W per square foot, and offer different levels of redundancy in the same building as required. The plan also mentions 750kVa Mitsubishi UPS systems; on two independent circuits, with 2.25MW Detroit Diesel generators, and each power leg backed by batteries.