CyrusOne has to build another data center in Frankfurt, Germany.
The company this week detailed plans for its seventh data center campus in Frankfurt, named FRA7, located on a 63,000 sqm (678,125 sq ft) plot at Frankfurt Westside business park.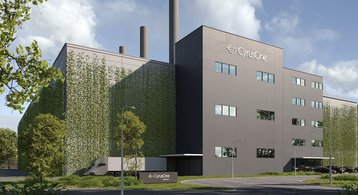 The development will consist of two three-story buildings offering 81MW across nine data halls.
Demolition and site clearance is already underway and will be complete by Q1 2024. Construction will commence in Q3 2024 for a Q2 2026 delivery.
More than 1,800 sqm of the facility walls and roofs will be "green," while the development will include 5,500 sqm of open green space and planting of more than sixty trees. Waste heat re-use methods will be deployed within both buildings with a potential 40MW of waste heat delivered to the campus heating network when at full capacity.
"Frankfurt is an incredibly important location for CyrusOne in Europe with 60MW IT capacity across four operational data centers and another 126MW under development. It is a real milestone to be planning our seventh facility in the city, and our biggest development to date in Frankfurt," said Andreas Paduch, area VP of European Sales at CyrusOne.
"We are thrilled to have BEOS, an experienced and innovative local organization, as a key partner for this build at Frankfurt Westside and this is the start of a longstanding partnership with this team. It's fantastic to work with a company so aligned with us on sustainability and biodiversity goals as we move forward on the project together."
Set on the former Griesheim Industrial Park, Frankfurt Westside is a 73-hectare commercial and industrial mixed-use regeneration project managed by BEOS AG and its parent company Swiss Life Asset Managers. The former industrial site has its origins in 1856, when it was used for chemical products manufacturing; the two companies took over management of the site from owner Clariant Produkte in 2020.
"We are pleased that in CyrusOne we have found a reliable, long-term partner for Frankfurt Westside, who in the future will play a key role in the implementation of our ambitious ESG agenda. Our companies are united by many common visions, and in particular with regard to sustainability," said Holger Matheis, CEO of Swiss Life Asset Managers.
Mathias Strauch, project head at BEOS AG, added: "The chemical industry was active for over 180 years in Griesheim Industrial Park. Now is the time to shape the future of Frankfurt Westside, by acting courageously and responsibly – not just for us, but also for future generations. In this respect, the collaboration with CyrusOne is an important element, which fits in seamlessly with our sustainability strategy."
KKR-owned CyrusOne currently has six other facilities in Frankfurt in operation or development.
Frankfurt l offers 9.1 MW of capacity across 4,950 sqm (53,400 sq ft); Frankfurt II offers 17.6MW across 8,400 sqm (90,350 sq ft); both were acquired from Zenium in 2017. Frankfurt III offers 22MW across 11,500 sqm (123,800 sq ft), and Frankfurt IV offers 11 MW across 5,400 sqm (58,050 sq ft).
In November 2021, the company announced plans for Frankfurt V, a 90MW facility located in the Hanau area to the east of Frankfurt. Construction was planned to start in Q2 2023, with the first 9MW phase of capacity due to be delivered in Q3 2024.
In July, the company announced plans for FRA6, a 27,500 sqm (296,000 sq ft) facility offering 72MW across a single four-story building. CyrusOne acquired the site, located at Wilhelm-Fay Strasse 31-37, from investment group Corum for €95 million ($102.3m) in January 2023. At the time of the sale, the existing property was leased to Deutsche Bank.