Singapore-based Data Center First has detailed its first data center, which is to be located in Batam, Indonesia.
DCF was set up by Hong Kong-based real estate private equity firm Gaw Capital Partners earlier this year and is led by industry veteran Wong Ka Vin.
Phase one of the Nongsa One DC campus will see a 30MW facility built and completed by the end of 2023, with the company reportedly investing $40 million into the project. The campus – located in Batam Island's Nongsa Digital Park – sits on 276,600 sq ft (25,700 sqm) of land and the company has secured electricity supply from two independent PLN substations, with enough energy secured for a second building.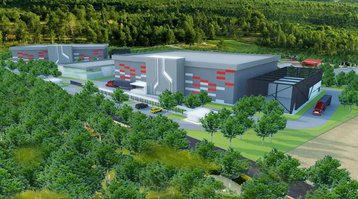 "Nongsa One has arrived in Nongsa Digital Park and we are delighted to be the new crossroad for this bold vision of a digital future for Singapore and Indonesia," said Wong.
Wong has previously held roles at i-STT, Neustar, Equinix, CSF Group, and 1-Net. The new company marks Gaw's first data center investments in Asia outside of China, having previously raised $1.3 billion for a China-focused data center fund and invested in a 300,000 sq ft (27,900 sqm) facility outside Shanghai.
Batam is the largest city in the Riau Islands and is located close to Singapore, on the opposite side of the Singapore Strait. Nongsa park, developed by Citramas Group, has been granted special economic zone (SEZ) status, which provides beneficial tax tariffs.
"As the first data center development in the Nongsa Special Economic Zone, this cutting-edge infrastructure demonstrates NDP's commitment in attracting both best in class talent and key global infrastructure partners while affirming our role as a 'Digital Bridge' to Indonesia's digitization roadmap," said Nongsa Digital Park Mike Wiluan.
The Indonesian Government says it is targeting data center developments from 150MW to 400MW at the 167-hectare park. Nongsa Digital Park senior executive director Marco Bardelli has previously said around 20 data center firms were looking to build facilities in the park, which has allocated around 25 hectares for data centers.
Earlier this month, the Indonesian government released a statement this month saying Telkom Indonesia and Etisalat Group are also planning to invest up to $100 million in building a data center at the park.
Gan Kim Yong, Singapore's Minister for Trade and Industry, added: "Data Center First's investment highlights the potential of a nearshoring model for Singapore-based data center operators to expand their capacity and capture the rapidly growing demand for data center services in Southeast Asia."
More in Construction & Site Selection