New Zealand-based infrastructure provider DataCentre220 has added another floor to its facility in Auckland, to meet demand for carrier-neutral colocation services.
The data center on Queen Street offers access to 41 different networks, making it the most connected site of its kind in the country. It doesn't charge recurring cross-connect fees – charges levied by some colocation providers for linking customer equipment to that of a network provider, often criticized in the industry for being disproportionately high.
The official opening of the expansion is scheduled for 13 September.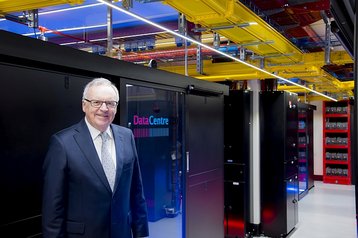 Connectivity counts
DataCentre220 runs its sole facility on 220 Queen Street, in close proximity to Auckland's central business district. This historic building on the corner of Queen St and Victoria St was originally built for the Australian Mutual Provident (AMP) society, but today it is simply known as The Data Centre.
DataCentre220 customers include Megaport, Cloudflare, Netflix, Superloop and NZIX, the New Zealand Internet Exchange.
The company started planning the expansion in 2015, as its original data halls were reaching full occupancy. It is now ready to officially open the new space, with some customers having already moved their equipment.
The new data halls will not charge customers a recurring fee for linking IT equipment across the data center.
"Most of DataCentre220's competitors charge a monthly fee for cross connects, or otherwise 'clip the ticket' on bandwidth used, and this revenue can be a significant proportion of their total income, often 15 to 20 percent," Martin Spencer, managing director of the company, explained.
"We couldn't bring ourselves to charge a monthly fee for something the client has already paid for, so we charge only the labor and parts cost to make the initial connection – around $150 – and that is it."
In an email to DCD, Spencer added some detail: "We are a very small data centre by most standards, mainly because we are located right in the very heart of Auckland's Central Business District in an office building that I own. However the high cost of real estate is offset somewhat by the density of fibre that runs past three sides of the building.
"The second floor expansion will be be completed in two stages. Each stage is completely finished before customers move in. When completed the data centre will have a total of 240 racks and four generators. The floor is laid out with its own two generators and 160 racks and the building is strong enough that this layout can be replicated on other floors."