Dataqube is testing a refrigerant in its Edge boxes which has a lower global warming potential.
The company, which makes low-maintenance micro data centers, is testing the use of R32 refrigerant instead of the more usual R134a and R410a, with help from cooling specialist Primaria.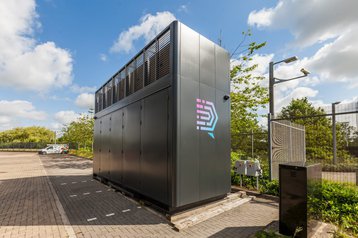 Under European and other laws, HFC coolants have been phased out because they have a high global waming potential (GWP). One of the leading contenders to replace them is R32, but the replacement is not simple because R32 - like most HFC alternatives - is more flammable than the compounds it replaces. It is also, incidentally, an ozone depleter, so both of these factors must be taken into account.
The popular HFCs R134a and especially R410a have GWP ratings of 1430 and 2088, but R32 has a GWP rating up to 68 percent lower at 675, while also improving heat transfer.
"The environmental impact of the data center industry is significant, estimated at between five to nine percent of global electricity usage and more than two percent of all CO2 emissions." Says David Keegan, CEO of DataQube.  "In light of COP26 targets, the industry as a whole needs to rethink its overall energy usage if it is to become climate neutral by 2030."
Henrik Abrink, managing director of Primaria said: "With the development and implementation of R-32 in the DataQube cooling units we have taken a step further to deliver high added value on [cost and sustainability] in a solution that is already proving to be the most energy-efficient Edge data center system on the market."
DataQube's Edge boxes eschew the normal ISO container dimensions for a more flexible set of measurements resembling large roadside cabinets - a move which the company claims can save as much as 56 percent of CO2 emissions and energy use. Using R32 will improve this further.