The DCD Awards for 2017 will spotlight two categories for those working to improve the data center industry. The Outstanding Contribution to the Industry award will celebrate an individual who has made a long-term contribution to the industry, and a new category for 2017, Best Data Center Initiative of the Year will recognize projects that benefit the sector as a whole. 
The finalists for Data Center Initiative of the Year were announced on November 7 at DCD>Zettastructure in London, and the winner will claim their prize at the DCD>Awards gala event held on December 7th at the luxurious Royal Lancaster Hotel in London, following a final round of judging by a panel of industry experts.
There is no shortlist for the Outstanding Contribution prize, which has previously been presented to a series of distinguished engineers, technologists and thought leaders. The 2017 award was given to Lex Coors, chief technology officer at Interxion. 
"Every industry has its champions and pioneers, who will be revered for the contributions they have made for years to come," said George Rockett, CEO of DCD. "The previous winners of this Award are all distinguished by extensive service to the data center industry." 
Helping others
The Outstanding Contribution to the industry award is sponsored by Mercury, a European contractor specializing in mechanical, electrical, fire protection and systems for data centers and other sectors.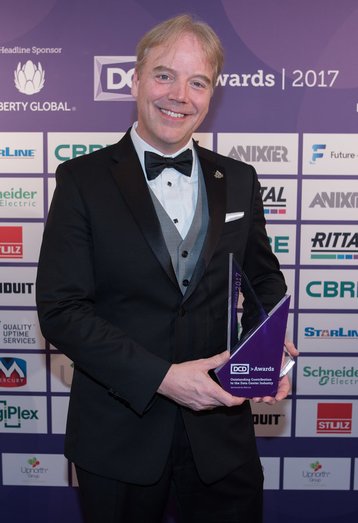 The Data Center Initiative Award is designed to recognize efforts by bodies including government departments, NGOs, universities and research institutes. Some are intended to promote industry growth, while others introduce new standards, encourage improved operations, and carry out important research.
The finalists are listed below. 
Best Data Center Initiative of the Year
Sponsored by DCPRO
DCIRN (United Kingdom)
RISE SICS North AB (Sweden)
LBNL (United Kingdom)
RenewIT (Spain)
If you want to attend the ceremony, or find out about sponsorship opportunitis, visit: https://www.dcdawards.global/ or contact global.awards@datacenterdynamics.com