DatacenterDynamics has published the shortlist of finalists for this year's Pan-Asian Data Center Industry Awards. The winners will be announced on September 16 as part of Singapore Data Center Week. 
The ten awards categories received more than 80 entries from 12 Asian nations including Japan, China, India, Singapore, Indonesia, Australia and Malaysia. This is the highest number of participating countries on record. 
Gala dinner
The winners of each category will be announced at a gala dinner and prize-giving ceremony at the Marina Bay Sands, Singapore, on September 16, 2015, a highlight of Singapore Data Center Week.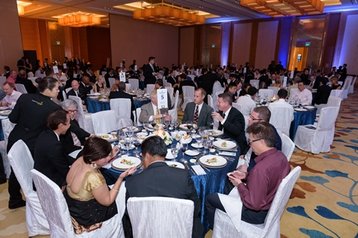 The DatacenterDynamics Asia Pacific Awards are part of a unique global series that provides worldwide recognition to outstanding individuals, teams and projects. In this complex and competitive market, there can be few greater accolades than to be awarded one these 'Oscars' through the rigorous judging of an independent panel of industry experts. Past winners have included many of the world's leading brands, and every shortlisted finalist shares recognition for their exceptional performance and contribution to the market. 
"The diversity and quality of this year's entries has been outstanding," said Chairman of the Judges, Ed Ansett. "The majority of the projects that we have had to consider are world-class, which is indicative of a fast-maturing industry sector. Every project or team that has made the next stage is noteworthy."
Keith Murray, Regional Vice-President, Data Center Solutions (APAC) of Schneider Electric, Headline Sponsor of the Awards programme, commented: "We are delighted to again be supporting the DCD Awards. It is programmes such as this that spur data center owners and operators to embrace best practice and innovation, and all the finalists are exemplars to the wider community."
This year's shortlisted finalists are:
Huawei Langfang Cloud Data Center
ITC
Telstra
Vodafone India
Sponsored by Emerson Network Power

Chinacache Xin Run Technology
China Unicom
Shanghai Huadu Architecture & Urban Planning Co
StarHub
3 – Service Provider Data Center
Sponsored by CBRE
Equinix Inc
Global Switch
IO Singapore
Netmagic Solutions
Huawei
National Stock Exchange of India
Netmagic Solutions
StarHub
5 – Data Center Critical Environment Team of the Year
Canberra Data Centres
Digital Realty
IBM India
Infosys
6 – Critical Environment Future Thinking
Sponsored by Schneider Electric  
Canberra Data Centres
IBM India
IO Singapore
NEC
7 – Energy Efficiency Improver's Award
CenturyLink Singapore
Digital Realty
Hitachi Sunway Data Centre Services
NTT Singapore
8 – Data Center Transformation Project of the Year
Beijing UniCloud Technology
Huawei
IBM India
Telstra
9 – "Open" Data Center Project
Canberra Data Centres
Huawei
Nanyang Technological University
Riot Games - Open Compute Project
10 – Cloud Journey of the Year
Dimension Data Asia Pacific (on behalf of Kathmandu)
Equinix
Integrated Healthcare Innovation Systems (IHIS)
IVE
Two further "Open" categories exist, for which the winners will be announced on the night. These are:
Sponsored by Digital Realty
12 – Outstanding Contribution to the Industry
Sponsored by IO
The gala dinner and prize-giving ceremony commences at 7.30pm on Thursday September 16. Limited places are still available.