Latvia's DEAC and Lithuania's Data Logistics Center (DLC) have received a €30 million ($33.4m) loan to fund data center expansion projects.
The two companies this week announced they had secured a 10-year loan from SEB Bank to expand Baltic telecommunication infrastructure, with a focus on data centers and fiber-optic networks.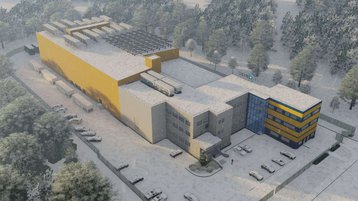 "The investment from SEB Bank will mainly finance the construction of the new third DEAC data center in Riga, Latvia, which will be one of the most sustainable in the region. It will also go towards the expansion of the DLC data centers in Vilnius, Lithuania, and fiber-optic networks," said DEAC and DLC CEO, Andris Gailitis.
For DEAC, the money will be used for a 10MW facility in Riga with capacity for 1,000 racks the company announced in May 2022. Construction is due for completion by Q4 2024.
Both companies are part of Baltic Rezo, a company owned by Quaero European Infrastructure Fund II (QEIF II), which is managed by the asset management company Quaero Capital.
"We remain firmly committed to the Baltics, building top quality, efficient and environmentally neutral critical infrastructure. We're pleased we've developed this long-term relationship with SEB Bank," said Quaero Capital Managing Partner Sébastien Bourget.
Established in 1999, DEAC owns one 2.3MW data center and a 0.4MW site in Riga, while a third facility in Vilnius has 4MW of capacity with an additional 400 racks under construction. Quaero acquired DEAC in 2020.
Founded in 2015, Duomenų Logistikos Centras (aka Data Logistics Center) operates six facilities across Lithuania – two in the capital Vilnius – as well as a 2,000-kilometer fiber network. DLC was previously owned by Ignitis Group; the firm was set to sell DLC to Telia Lietuva in 2018, but the deal fell through. Quaero then acquired DLC in 2020.
Gailitis has been CEO of DEAC since 2005, having joined the company as CTO in 1999. He became CEO of DLC last year, taking over from Darius Zailskas after his five years at the helm.
"Digital-intensive work and lifestyle is generating ever-increasing amounts of data with annual growth projected by around a fifth over the next few years. As more information is generated by data-intensive businesses, Internet and telecommunications infrastructure development is essential for storing, accessing and managing the ever-increasing volumes of data. The SEB Bank loan will help to build this important infrastructure in the Baltic States and accelerate sustainable digital transformation in our society and business," says SEB Bank Management Board Member and Head of Corporate Banking Vilius Juzikis.