As predicted, Dell is selling its services business# to Japanese services firm NTT Data, to clear the decks for its giant merger with EMC.
NTT is paying $3.1 billion, according to regulatory filings cited by the New York Times, which falls well short of the $5 billion Dell was reportedly hoping for, and also represents a loss on the business, which was created when it Dell bought services firm Perot Systems for $3.9 billion in 2009. For Dell, this helps finance the EMC takeover, for which it is selling assets and gathering finance from investors to add to the debt Michael Dell raised when he took the company private in 2013.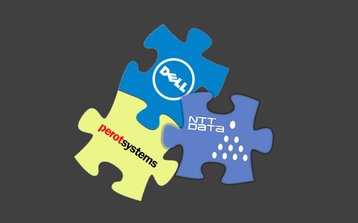 NTT plans
For NTT Data, the deal gives it a bigger services strength for outsourcing, which it must intend to move towards the cloud, and which will also rely on a continuing technology partnership with Dell itself. The unit claims particular strength in the healthcare and insurance sectors.
"Welcoming Dell Services to NTT Data… initiates an important business relationship with Dell," said Toshio Iwamoto, President and CEO of NTT Data Corporation. 
Michael Dell, CEO of Dell echoed this: "Together, NTT DATA and Dell Services will be a winning combination for Dell Services customers, team members and partners."
The Dell Services data centers in the US, UK and Australia, will joine NTT's 230 data centers around the globe, according to the release. NTT Communications has been expanding its data center and cloud business in recent years.
"Dell Services is a very well-run business and we believe its employee base, long-standing client relationships," said John McCain, CEO of NTT Data.
Suresh Vaswani will remain as president of Dell Services, reporting to Michael Dell, until the transaction closes.