French startup Denv-R is gearing up to deploy its first prototype floating data center in Nantes.
First announced last year, Denv-R plans to launch facilities cooled by river water. The company said this will reduce energy consumption and CO2 emissions.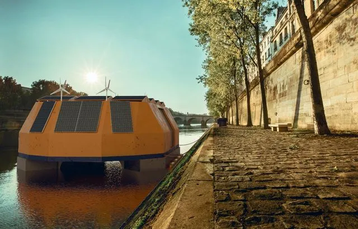 L'usine-Digitale reports that the company is set to establish a floating prototype at Nantes Port along the Loire in Nantes – at the Quai Président-Wilson quay – over the summer.
The company said the 100 sqm (1,075 sq ft) container will be installed on a float developed by Geps Techno, a developer of offshore buoys.
The DenV-R demonstrator will carry four computer racks with scalable power that can go up to 200 kilowatts. The company is reportedly investing around €900,000 ($989,000) for the project.
"This first unit should enable us to demonstrate the viability of our solution, whether in terms of safety, reliability, and availability," said Vincent Le Breton, Denv-R co-founder and CEO.
The company is also launching a cloud platform for customers – offering virtual machines and S3-compatible storage on OCP hardware – but is aiming to host other companies' clouds.
"In the long term, the objective is not to position ourselves as a host. We want to address the cloud market, by operating and exploiting a network of data centers for third parties," said Le Breton.
The idea of a floating data center is similar to the barges pioneered by the US company Nautilus, which has a floating facility in California, alongside one in development in Ireland, and a land-based data center in Maine.
Denv-R says its system will be smaller than Nautilus,' making it more suitable for deployment on urban rivers. It also circulates water passively, without the need for pumps. The company claims its platforms are "unsinkable."
Founded in 2011, Geps Techno develops smart buoys and platforms. Its Wavegem Platform combines on-platform solar and wave generation to power on-board or nearby payloads. Last year the company partnered with Meta to explore whether its platforms could be used to power subsea cables mid-ocean.
Its platforms can be equipped with various sensors and data collection equipment, and include cell, RF, and satellite communication options. The company also offers stabilization technology to ships and other offshore platforms.
L'usine-digitale also reports that Denv-R has launched the development of an offshore version, which will rely on the power of the ocean swell to produce energy.
Digital Realty utilizes river cooling for a land-based facility in Marseille, and Green Mountain aims to use river cooling for an upcoming facility outside Frankfurt. Google's campus in Hamina, Finland, utilizes sea-water cooling.
Keppel – which has previously invested in Nautilus – is also planning a hydrogen-powered floating data center park in Singapore.