Digital Realty has deployed a robotic dog at a data center in Switzerland to conduct regular inspections.
In a case study recently published by Anybotics, the company explained how Digital Realty has been using its Anymal robot dog for data center inspections for more than a year.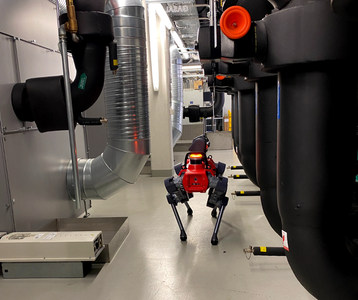 Anymal is a quadruped robot, similar in design to Boston Dynamics' Spot robot. Anybotics said it has been conducting inspection missions at Digital Realty's Zurich site 'every day since July 2022,' performing regular monitoring and measurements of specific systems, such as HVAC.
The company said the machine has typically been performing nine inspection missions daily, scheduled through the Anymal API, monitoring up to 70 elements and taking visual, thermal, and acoustic measurements on its two-hour missions. After completing a mission cycle, the robot will return to a docking station to recharge.
If cables overheat, pumps vibrate excessively, or irregular frequency patterns are detected, Anymal triggers an alert message for operators to implement manual interventions, the company said. LiDAR and onboard LEDs enables the machine to operate in low-light condition and during night shifts.
Founded in 2016, Anybotics is a Swiss robotics company. Standing 70 cm tall and 80 cm long, the company says its Anymal machine is fully automated, ruggedized, and has a 90-minute run time (with a three-hour recharge period). It is able to run on WiFi or via 4G/LTE with an additional module. Its inspection unit includes zoom and thermal cameras, a microphone, and onboard compute to process readings.
"With the help of Anymal, we are creating new and innovative ways to improve data center operations. Anymal runs autonomously and delivers data digitally without the need for manual intervention. 24/7 data collection for early detection of faults increases security and reliability in the data center," said Denis Marusic, director operations at Digital Realty in Zurich.
Karsten Sausen, director of business development at Anybotics, added: "It's great to be pioneering this project together with Digital Realty and to assist in continuously optimizing their data center operations."
Anybotics notes that 'people are still needed' and its machine "supports Digital Realty's staff by providing consistent, precise asset and equipment data which it acquires on its regular inspection missions."
Digital Realty currently operates three facilities in Zurich. ZUR, first announced in 2020, offers 11,400 sqm (122,700 sq ft) of data center space and 24MW. The whole campus offers a total of 41MW, with ZUR2 offering 12MW across 6,600 sqm (71,050 sq ft).
Digital isn't the only company exploring the use of four-legged robots in the data center. Utah-based Novva has deployed Boston Dynamics Spot robots at its flagship campus and said it plans to roll out more in the future. The company has also deployed drones for security purposes and is exploring having microdrones roam data halls for inspection purposes.
Mexican operator Kio has also previously deployed two Spot machines for data center operations, while GlobalFoundries deployed Spot at a chip fab plant in Vermont for monitoring purposes.
Oracle is currently conducting a data center trial utilizing Spot at its Oracle Labs facility in Chicago, Illinois.
As well as Anybotics and Boston Dynamics, quadruped robot developers include Xiaomi, Weilan, and Unitree in China as well as Ghost Robotics in the US.