The US Department of Defense has published its Data Strategy as part of the US Military's digital transition.
The strategy preludes the Pentagon's Digital Modernization program and lays out principles, goals, and objectives for the digital transition of government departments.
Weaponizing data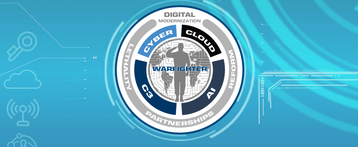 DoD chief information officer Dana Deasy said: "Data is the ammunition in the Digital Modernization Strategy and is increasingly central to warfighter advantage on and off the battlefield. The National Defense Strategy directed us to be more lethal, efficient, and interoperable with partners. This strategy is our first step to making that ammo persistently available to the men and women of the DoD regardless of echelon or geographic location."
The departments involved in the strategy are the Office of the Secretary of Defense, the Military Departments, the Office of the Chairman of the Joint Chiefs of Staff and the Joint Staff, Combatant Commands, Defense Agencies, and DoD Field Activities; all are referred to by the strategy as Components.
The Components will now develop their own Data Strategy Plans, to be overseen by the DoD's data division, the Data Council. Dave Spirk, the chief data officer for the DoD, will be taking the lead on any supervision. "Deasy gave me clear guidance to focus early efforts on data for joint warfighting," Spirk said.
"The strategy's emphasis will allow us to concentrate on that. It reinforces DoD's priority focus areas of joint warfighting, senior leader decision support, and data analytics."
A host of infrastructural developments will also be rolled out for the Data Strategy. The report said new physical architecture would be needed by the DoD, and this could be enabled by enterprise cloud companies or other technologies. "The data will need storage and processing, among other tasks," the DoD said in a statement.