Tesla's new $1 billion Dojo supercomputer could almost double the company's value, according to a Morgan Stanley analyst.
An investment note from Morgan Stanley noted that the company had increased its Tesla target price by 60 percent to $400 per share, up from the current $250.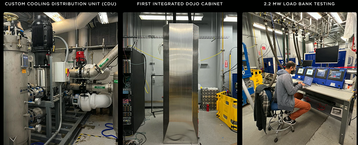 The company said this was thanks to its new custom supercomputer, Dojo, which the analyst firm said could open new addressable markets beyond selling vehicles at a set price and give the company an advantage in the market.
"We believe that Dojo can add up to $500 billion to Tesla's enterprise value, expressed through a faster adoption rate in Mobility (robotaxi) and Network Services (SaaS)." That would be adding nearly half the valuation of Nvidia, the maker of the GPUs that power the current AI boom.
Tesla's market cap is currently around $778 billion at the time of writing with a stock value of around $248 a share. Its share value has already more than doubled this year, after declining in 2022.
"The more we looked at Dojo, the more we realized the potential for underappreciated value in the stock," said Morgan Stanley analyst Adam Jonas.
Dojo is Tesla's custom supercomputer dedicated to helping train the company's cars for full self-driving systems.
The company has designed custom chips and system layouts that it says remove bandwidth bottlenecks around machine learning and is focused on the needs of machine vision and teaching self-driving cars. CEO Elon Musk has said it is developing the system partly due to the fact the company can't get enough GPUs to match its needs.
Each Dojo cabinet holds two training tile trays and accompanying interface equipment. At full build-out, 10 cabinets will be connected into one 'Exapod' that will be the 1.1 exaflops (BF16/CFP8) Dojo system. Each tray consists of six training tiles equipped with the Dojo chips; the company said each 135kg tray offers 54 petaflops (BF16/CFP8) and requires 100kW+ of power.
Installation of the first Dojo cabinets began in October last year, causing a local substation to trip due to its power needs.
Dojo was previously expected to come into operation in Q1 2023. The company said it plans to install a total of seven ExaPods in Palo Alto, potentially offering 8.8 exaflops (BF16/CFP8).
Tesla has said it will spend more than $1 billion on developing Dojo. CEO Musk has previously said the company may offer Dojo to companies as-a-service.
Even without Dojo, Tesla's existing HPC capabilities are substantial. The company has previously discussed operating three GPU clusters totaling some 10,000 GPUs, the largest of which would be powerful enough to make the top ten of the Top500 list of fastest supercomputers.
The company recently launched a new GPU cluster featuring a reported 10,000 Nvidia H100 GPUs, which more than doubles its existing compute capabilities.
"Tesla AI 10k H100 cluster, go live Monday," Tesla infrastructure lead Tim Zaman said on X (formerly Twitter) late last month. "Due to real-world video training, we may have the largest training datasets in the world, hot tier cache capacity beyond 200PB - orders of magnitudes more than LLMs."
The supercomputer "will employ 10,000 Nvidia H100 GPUs and is more powerful than the world's third highest-performing supercomputer," noted Oppenheimer analyst Rick Schafer. HPCWire estimates the system could offer 340 petaflops at FP64.