North American utility Dominion Energy says it may not be able to meet demands for power in Ashburn, Northern Virginia, delaying building projects in the world's fastest-growing data center hub by many years.
Dominion has told customers that it has power supplies, but can no longer guarantee to deliver the quantity of electricity customers want via overhead powerlines. If these warnings prove true, this could stall projects with billions invested, and Loudoun County's tax revenue would take a severe hit if the hub of data centers in Ashburn stalls. For now, local authorities and industry bodies are struggling to understand the sudden warning from Dominion.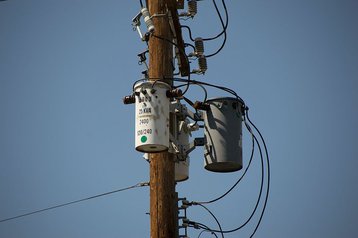 Dominion supplies electricity in Virginia, North Carolina, and South Carolina, as well as natural gas to parts of the US. In the data center-rich counties of Loudoun, Prince William, and Fauquier, most of the electricity is carried by overhead powerlines marching along roads - a delivery method that has led to protests.
Loudoun County has 26 million square feet of data center space, with 5 million more in development and many more projects planned. Data center equipment taxes provide one-third of the County's tax income, but has recently faced a backlash from residents who want fewer facilities built.
Now they may get their wish - and may suffer from a lack of funds to the County coffers in the process.
Wells Fargo warning
Dominion could halt power delivery for new data center developments until 2025 or 2026, according to a warning that emerged in a note from Wells Fargo analysts to clients this week. Facilities which are only three to six months from completion should get their power, said the note, but any further from completion might face "significant delays."
"The issue stems not from a lack of power generation capabilities, but rather, an inability to distribute over high-voltage power lines to Ashburn," said the Wells Fargo note, which DCD has seen. Even if developers have a commitment letter from the utility, they might still not get their power, says Wells Fargo.
The analysts' note was quickly confirmed by industry sources, including company earnings calls. Digital Realty's aptly-named CFO Andy Power told analysts yesterday that Dominion had warned Digital of a "potential pinch point in Eastern Loudoun County that could delay deliveries until 2026," adding that the cause was "transmission, not generation, i.e. the pipes or the power line infrastructure, not the actual power."
Wells Fargo predicts that data center construction planned for 2023/2024 could be "significantly delayed," which would derail 90MW of hyperscale data center commitments, along with more leases planned for years to come.
Digital's Power said there would be "a slowdown in delivery of new supply in the largest and most consistently in-demand data center market in the world."
Prince William will benefit
The Wells Fargo note predicts that data center projects affected by the overload in Loudoun will move to neighboring counties: "We would envision that Prince William County could be a major beneficiary of new deployments moving away from Ashburn. Multiple companies, including CloudHQ, Stack Infrastructure, and Iron Mountain, have meaningful exposure to Prince William County. This development could also be a boon for Quantum Loophole, a developer that is building a 1GW hyperscale campus in nearby Maryland."
Developers, operators, and local authorities are expressing frustration with Dominion's communication of the issue.
"The power company did not give definitive answers to most of the relevant questions we have," said Power, "but they have been transparent about the potential issue, and they're working very diligently to finalize their assessment."
Industry group the Data Center Coalition expressed concern. Its president Josh Levi said: "While we are gathering additional information to help our members assess the impact on their businesses, the DCC is engaging proactively with Dominion and partners in state and local government to support the determination of the best path forward."
"We're only two weeks into the discussions, and are still trying to get a handle on the extent of the challenges we're facing," said Buddy Rizer, Executive Director, Loudoun County Department of Economic Development, reported in Data Center Frontier. "We're going to work with everyone we can to try to figure out what steps we need to take to help deliver for the companies doing business in Loudoun County."
Positive side?
Despite the problem, Digital's Power said Ashburn would not lose importance: "First and foremost, I don't see people leaving Ashburn for this delay. This isn't like a permanent feature, this is a bottleneck in a portion of Ashburn. And you've got an incredible amount of customers, infrastructures, and network. Ashburn grew to where it is for many reasons, and I don't see demand just running away in the face of this."
For those with existing space in Ashburn, there's a positive side: They can charge more for it.
"I think the available capacity is going to become more precious," said Digital Realty's Power. "The 40 megawatts of operational space that we have today is more precious. And if we're able to proceed and bring on new capacity that I outlined, that becomes more precious."
Power said this could actually be favorable to Digital overall. As well as the company's 40MW of space in Ashburn, the company has 50MW in a building that should be completed before Dominion cuts off new capacity, 200MW in Manassas in Prince William County, and 200MW on a site near Dulles Airport that has its own substation, and so is free from the overhead powerline issue.
However, the Wells Fargo note gave a darker analysis: "Digital Realty Trust has meaningful exposure to Ashburn, where it's in the initial stages of building capacity on its 'Western Lands' campus (a 400-acre property that ultimately can provision 1.5 GW of capacity). It appears this power crisis could hinder their ability to deliver capacity on that campus in the near future."
DCD has asked Dominion for comment.