Facebook/Meta's giant data center proposal in Zeewolde, The Netherlands, is at risk after the Dutch Senate put the sale of the land on hold.
While the local municipality voted to approve the 200MW data center this week, some of the land Facebook would buy is owned by the Rijksvastgoedbedrijf (the Central Government Real Estate Agency), so state approval is necessary.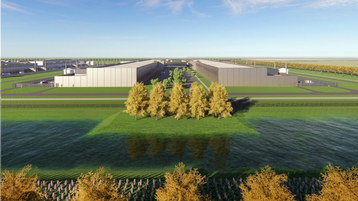 The Party for the Animals, PvdD, submitted a proposal in the Eerste Kamer (Senate) to block the sale by the Rijksvastgoedbedrijf. The sale should be suspended "until a new government vision for spatial planning and data centers is ready," the party said.
A similar motion was put forward in the House of Representatives last week, but was rejected - but the Senate proposal has gained majority support.
The PvdD only holds three of the 75 seats in the Senate, but hopes to gain support from other parties as concerns about massive data centers in the country grow. State Secretary Raymond Knops of Home Affairs said he would study the motion, but no timeline was given.
Earlier this month, a majority of the House of Representatives said that they wanted national control over the construction of data centers in the Netherlands.
State government action has been stymied by the longest government cabinet formation in Dutch history - at more than nine months. Outgoing, incoming, and current caretaker prime minister Mark Rutte will form a coalition government, with the new cabinet set to be sworn in early next year.
The province of Flevoland, of which Zeewolde is a part, currently has a ban on new data center constructions, pending a study into their impact on the community. However, Meta/Facebook appears to have evaded this ban which was enacted in June, as it got its application in February.
The facility will potentially have five halls and use 200MW of electrical power. Should it go ahead, it will be built on 166 hectares (410 acres) of farmland, currently known as Trekkersveld IV (Tractor field IV).