Australian data center firm DXN delivered several data center projects to customers in Q2 amid supply chain challenges.
It announced quarterly revenues this week of AU$5.35 million (US$3.7m), up 151 percent on Q2 2021. Its modular manufacturing unit achieved the largest revenues in its history, posting AU$4.71 million (US$3.3.m).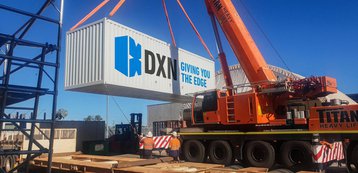 "With demand in the Edge modular sector continuing to grow, DXN expected to continue its strong growth path in FY23," the company said.
As with many developers and operators, DXN has had to fight supply chain challenges. The company noted component shipping delays and equipment supply shortages requiring a shirt to up-front payments.
According to a company update, during the most recent quarter DXN delivered the main data center and communication modules for the Perth Centre for National Resilience; a Covid-19 quarantine facility.
The company also delivered a second Edge data center for mining firm Covalent Lithium, a module for Cosmos Capital, a cable landing station to the Belau Submarine Cable Company (BSCC) for its new cable spur to Palau, a project for Sub.co for the Cocos (Keeling) Islands CLS for the Oman – Australia Cable (OAC), and modular data center design for a 'global Internet customer.'
Future bookings for modular facilities amount to around AU$13.8 million, with several projects pushed back from the end of 2022 into early 2023.
It announced data center operating revenues of AU$637,000 (US$445,400), up from AU$314,000 (US$219,600) in Q2 2021. The company is also developing a cloud product in partnership with Australian CSP OrionVM.
ASX-listed DXN currently operates three data centers; the 4,351 sqm (46,800 sq ft), 5.5MW DXN-SYD01 in Sydney, a second facility in Hobart, Tasmania, and a350 sqm (3,700 sq ft) bunker with two data halls in Darwin. The company has previously delivered at least 18 modular data centers to customers including Boeing and Covalent Lithium.