Edge data center specialist EdgeConneX has acquired a data center in Munich, Germany.
The company plans to develop and expand the facility, with additional space for customers ready in the second quarter of 2019.
EdgeConneX hasn't publicized the name of seller, but online searches reveal it was previously owned by British telco Cable & Wireless, and later Vodafone.
"Munich has been an historically important market for network and content peering and is now seeing substantial growth as a cloud center as well," said Dick Theunissen, managing director EMEA at EdgeConneX.
"This, coupled with demand from customers, primarily to serve the region and create an alternative to Frankfurt, has driven our entry into Munich."
The price of the acquisition has not been disclosed.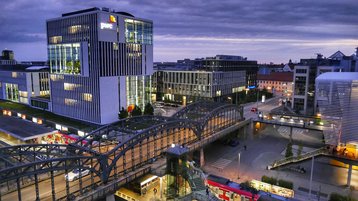 Welcome to Bavaria
EdgeConneX was established in late 2013, and has since built no fewer than 31 data centers, making strategic acquisitions along the way.
The majority of its facilities are located in the US, but the company has been expanding its presence in Europe - just a few months ago, it acquired a data center in Warsaw, Poland.
EdgeConneX's definition of 'edge' is not about the size of the facility, but the proximity to end-users - the company runs data centers in excess of 40MW, which it describes as edge computing sites. At the same time, it has no presence in Northern Virginia - beloved by hyperscale operators, but removed from large population centers.
The company's latest project is located in Munich, at 155 Landsberger Strasse. The carrier-neutral facility already hosts 20 network and cloud providers, and will continue serving existing tenants under new management.
"EdgeConneX brings the edge to its customers – we go where they need to be," Theunissen said. "Simply put, our European expansion is about bringing cost-effective and modern data center facilities and services to the markets that need it most. We're looking forward to making more announcements throughout the year."