EdgeConneX has quietly launched a new unit focused on electric vehicle (EV) charging points.
First spotted by Christian Koch's Foundations newsletter, the company has posted job openings for strategy and finance interns on its "Electric Vehicle Team."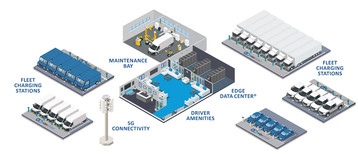 "EdgeConneX has launched a subsidiary company focused on acquiring, developing, and operating electric vehicle (EV) fleet charging stations," the company noted in the job specs. "ECX is aggressively pursuing properties across the United States to create vehicle charging capacity."
EdgeConneX said it was "engaging with real estate portfolios, autonomous vehicle companies, vehicle original equipment manufacturers (OEM), utility companies, and logistics companies" for the venture.
The company hasn't made any official announcements about the news, but has EV charging listed as an available option at its facilities under a 'fleet solutions' offering, saying "EdgeConneX is focused on fleet solutions for leading middle/last mile logistics, autonomous, and rideshare companies, working to drive the rapid adoption of electric vehicles and fuel net zero carbon movement of goods and people."
According to the WayBackMachine, the company launched the EV page in November 2021.
Koch notes that EdgeConneX hired an EV industry veteran from Greenslots (Shell Recharge Solutions) in December 2021.
It also offers "Autonomous Vehicle Data Offload" as a service, saying it is "developing data transfer stations for AV Depots" which will allow autonomous vehicles to simultaneously receive an electric charge and transmit data securely to the cloud.
DCD has reached out to EdgeConneX for more information.
More in Construction & Site Selection