Data center company Edged Energy is reportedly looking to develop a data center in Atlanta's Fulton County.
First reported by BizJournal, a building permit was recently filed in Atlanta, Georgia for a nearly 210,000-square-foot (19,500 sq ft), two-story data center at a former railway depo known as Tilford Yard. Plans show the project is called 'Edged'.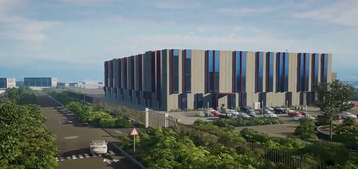 BJ reports sustainable infrastructure company Endeavour, the parent company of Edged Energy, is behind the project, according to a source familiar with the plans.
Endeavour reportedly has about 40 acres of land under contract from Atlanta development and investment company TPA Group. The sale price has not been disclosed, but Endeavour could pay close to $2 million per acre. Real estate advisory firm KBC Advisors is representing Endeavour in Atlanta.
TPA Group purchased 158 acres of Tilford Yard for $40 million in July 2021 from freight company CSX Corp. CSX shut down its operations at 300-acre Tilford Yard in 2017, but in 2021 said it would resume some operations on its remaining land there. Part of the Tilford Yard site is already home to an Amazon delivery facility.
Microsoft, Stack, and Verizon are developing data centers in Fulton County, which runs from Alpharetta in the north of Atlanta through to the city's southeast in the Fairburn/Palmetto areas. Lincoln Rackhouse & Principal and Datasphere have previously acquired facilities in the Alpharetta area of the county.
Edged Energy is a newcomer promising "net-zero digital infrastructure" for the Edge. The company plans to develop low-power waterless facilities with a PUE of 1.15 that utilize local renewable energy, primarily roof-mounted and ground PV installations.
The first mention of the company came in 2021 when Iberian real estate company Merlin Properties announced it was branching out into data centers in partnership with Edged.
The two companies said in 2021 they were planning facilities across Spain and Portugal in Madrid, Bilbao, Barcelona, and Lisbon. The sites in Barcelona and Madrid will reportedly support up to 20MW each, while the Bilbao and Lisbon sites can support up to 100MW each (20MW in the first phases).
The Bilbao-Arasur site broke ground in May 2022 and nearing completion, according to Edged's LinkedIn page, and will include up to 200MW of on-site battery storage. The Madrid facility, also under construction, will include 4,000 square meters (43,050 sq ft) of photovoltaic panels on the building exterior.
This is seemingly Edged's first development in the US. On its website, Edged said it is developing new sites in Europe, North & South America, the Middle East, and Asia, but hasn't provided more details.
Parent company Endeavour was set up early in 2020 by Aligned founder Jakob Carnemark. Its other companies include microgrid firm GridgeBlock, GigaGrid, 'green diesel' firm Pact Fuel, and water filtration company Voltech Water.
As well as Aligned, Edged staff include former Global Switch, Flexential, Ferrovial, and Skanska alumni.