American colocation specialist EdgeMicro has opened an edge computing test environment in Denver, Colorado.
The facility is a fully featured micro data center that will offer potential customers an opportunity to run their 'edge of the network' workloads at no cost.
EdgeMicro hopes this initiative will help accelerate edge deployments and enable participants to prove the viability of their edge computing projects.
Applications for the program are being accepted immediately.
Proof of concept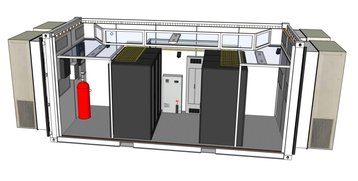 EdgeMicro was launched in 2017, aiming to build a network of small colocation data centers at cell tower sites, housed in steel modules the size of the standard ISO shipping containers, manufactured by Schneider Electric. The company also sells fully outfitted modules to customers.
Its micro data centers feature exterior and interior CCTV surveillance, biometric security, redundant cooling, UPS and fire suppression.
EdgeMicro can also handle installation, commissioning and maintenance of the facility.
Edge computing has been making the headlines for a while – including dozens on DCD - but despite considerable interest, has not been adopted as quickly as some have expected.
EdgeMicro hopes to convince the market by offering a free testing environment for edge applications. The facility supports 48kW of power capacity over six racks – enough for workloads that require extremely low latency or local processing, as well as data caching tasks for content delivery.
The deployment will be managed remotely using ETX (Edge Traffic Exchange), a single-box Local IPAccess (LIPA) solution proprietary to EdgeMicro.
"All companies seeking success at the edge recognize near-zero latency can only be achieved by placing their IT hardware and services closer to the consumer. These companies include content providers, wireless companies, IoT and other service providers. While each company delivers unique value, they all have a common challenge: the hurdles of cost and speed to market are too high," said Mike Hagan, CEO of EdgeMicro.
"Our company's mission is to solve problems for and deliver benefit to all organizations seeking success at the edge. We believe our no-cost Proof of Concept program is the solution."