Tesla CEO Elon Musk has claimed that it would take an investment of $10 trillion to shift humanity to a sustainable energy economy by 2050.
At the Tesla 'Master Plan' Investor Day event, the company said that such a transition was "entirely feasible."
The company has yet to provide detailed information on its analysis but has promised to share more at some point in the future.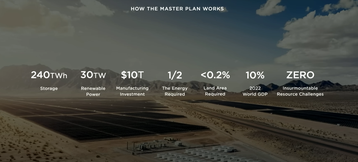 This is Musk's third 'Master Plan.' Previous editions have been overviews of potential Tesla products and features that may or may not come to fruition, but this addresses wider, global, issues.
"There is a clear path to a fully sustainable Earth - with abundance," Musk said. "It doesn't require destroying natural habitats, it doesn't require us to be austere and stop using electricity... I'm often shocked by how few people realize this."
Key to the company's thesis is that an electrified ecosystem has significantly less wasted energy, requiring around half as much energy consumption for the same standard of living.
Also central to making a renewable energy transition possible is around 240TWh of battery storage, 30TW of renewable power, and 0.2 percent of the world's land. Musk said that initial calculations put it at $6 trillion, but by making the study "more pessimistic" they came to an overall cost of $10 trillion, spread across the next few decades.
Those costs include mining and refining critical materials, and vehicle recycling plants, as well as the power generation and storage systems themselves.
"If this was spread out over 10 years it would be one percent of the global economy, over 20 years it would be half a percent, so this is not a big number relative to the global economy," Musk continued. Tesla claimed that in the last 20 years, $14 trillion was spent on fossil fuel infrastructure.
In presentation slides, Tesla estimated that renewably powering the existing grid would reduce fossil fuel use by 35 percent, switching to heat pumps and electric vehicles would cut another 22 and 21 percent respectively, while high-temperature heat delivery and hydrogen would save 17 percent. Five more percent would be saved by moving to sustainably fueled planes and boats - for a total of 98 percent saved.
"My personal opinion is that as we improve the energy density of batteries we will see all transportation go fully electric, with the exception of rockets," Musk said.
Pulling this off would require solar and wind deployments to jump three times over 2022 levels, EV production to grow 11 times, and battery production to soar by some 29 times, and maintain that level every year.
Musk pledged to publish "a detailed whitepaper with all of our assumptions and calculations," which will hopefully allow external experts to review the merits of the claims.
Important caveat:
Musk has announced two prior 'Master Plans,' with mixed success. His first, a 2006 pledge to build a sports car, and then more affordable cars, was seen as mostly successful, although Tesla has not been able to consistently reach the $35,000 price he promised.
The second plan, in 2016, said that the company would create
'stunning solar roofs,'
'expand the electric vehicle product line to address all major segments,'
'develop a self-driving capability that is 10× safer than manual,' and
'enable your car to make money for you when you aren't using it' (as a robotaxi).
Most of these have not come to pass. The roofs are available in limited quantities after lengthy delays, and are expensive compared with conventional solar panels. New vehicle rollouts have been delayed (and a promised high passenger-density urban transport vehicle never materialized), The self-driving capabilities are currently facing a lawsuit over their dangers (and it was revealed a key self-driving video was staged). And the robotaxis do not exist (let alone earn $30,000 a year, as promised).
It is worth noting, though, while the second Master Plan mostly failed to happen, over the past 19 years Tesla has grown into the largest electric vehicle maker in the world and dramatically sped up the transition to EVs. It has also deployed grid and consumer battery storage systems, helping the transition to renewable power.
Musk has shown an ability to build large companies, disrupt industries, and help transform sectors. But he has also repeatedly overpromised, misled investors, and recently seems more interested in laying off Twitter staff.
Transitioning to a sustainable economy is critical for the future of humanity, and the move cannot survive delays or overpromises.
Last year, the UN's environment agency warned that "it is a tall, and some would say impossible, order to reform the global economy and almost halve greenhouse gas emissions by 2030, but we must try. Every fraction of a degree matters: to vulnerable communities, to ecosystems, and to every one of us."
UN secretary general António Guterres added that climate action was "falling pitifully short... We are headed for a global catastrophe [and] for economy-destroying levels of global heating."