Storage giant EMC – soon to be part of reorganized Dell Technologies - launched a new storage brand at the EMC World conference in Las Vegas.
The Unity range is aimed at the small and medium-sized data centers. It consists of 2U appliances that offer file and block storage, with prices for the all-flash versions starting at $18,000 and hybrid version going for as low as $10,000.
EMC says Unity arrays offer three times more performance than its previous generation VNX arrays, at half the cost.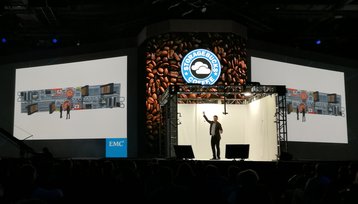 Strength through Unity
On the hardware side Unity arrays feature two storage controllers, dense 3D NAND, latest Haswell processors from Intel with up to 12 cores, DDR4 memory, redundant power supplies and battery-protected cache.
They support SAS, Ethernet and Fiber Channel connectivity, even though the latter is on its last legs –at least according to Chad Sakac, president of VCE.
A single Unity array currently offers up to 80TB of raw flash capacity in a 2U form factor, while a single Unity cluster can scale to 3 Petabytes and up to 300K IOPS.
The hardware is managed through a modern HTML5 interface, with photorealistic renders able to pinpoint the issues with physical arrays. All management tools integrate with both VMware and Microsoft ecosystems.
In terms of data services, Unity supports snapshots, native encryption and remote sync/async replication. The platform currently lacks compression and deduplication – however we were assured that support for in-line data reduction services will be added in the near future, lowering the cost per GB.
During one of the EMC World keynotes, an unusual demo used motion capture software to "shrink" EMC executives Jeff Boudreau and Jeremy Burton, letting them explore a giant model of a Unity array on the screen (pictured above).
Boudreau also volunteered information on incoming solid state drive sizes: "We have 3.22 Terabytes today, but we'll be increasing the density pretty quickly. Next, we'll be shipping 7.6 Terabyte drives, and then 15.4 Terabyte drives before the end of the year – we are talking 400 TB in 2U."
Unity has been certified as part of the VCE converged infrastructure portfolio, under the names Vblock 350 and VxBlock 350. It will also be available as a virtual appliance, with EMC software running on third-party hardware.
All-flash Unity options will qualify for EMC's Xpect More program, offering lifetime maintenance price protection, flash endurance protection and three-year money-back warranty.