Emerson Network Power has added new capabilities and modules to its Trellis platform. These include the addition of Trellis Thermal System Manager, an integrated management and environmental monitoring module, which allows users to track the thermal profile of their data center to each device.
The Trellis Thermal System Manager can save time with the installation of equipment, increasing the efficiency of the thermal management system and helping identify and eliminate hot spots.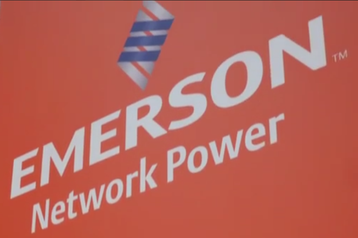 Updating the third major release of the Trellis platform 
This is the third major update of the Trellis platform data centre infrastructure management (DCIM) since its initial release in 2012.
Other new features include integration with Emerson Network Power's Avocent  DSView management software to enable secure, remote management of data centre infrastructure.
There is a new 2D and 3D visualisation capability, to allow local and remote users to rotate, zoom and view equipment at the room, rack and device level, and view rack-level air temperature profiles, to improve capacity planning and utilisations activities.
The new software has user interface improvements, including a user-friendly landing page and global header bar.
Enhancements have been made to the Trellis power calculations, which reduce the risk of downtime due to power phase imbalances, and also reduce stranded capacity by balancing loads across all three phases.
"These latest enhancements to the Trellis platform will provide new and existing customers with enhanced remote management capabilities, allowing increased visibility and greater control over power and cooling of today's data centres, which is becoming increasingly vital" said John Curran, vice president of Avocent product management, Emerson Network Power.
"The updates to our Trellis platform highlight Emerson's ongoing commitment to providing customers with a full suite of services in the DCIM space, where customers can select the best solutions to streamline operations and maximise value.
We understand the complex landscape our customers operate in and pride ourselves in our ability to create individual and tailor-made solutions to strengthen their IT operations and create greater efficiencies across the board. "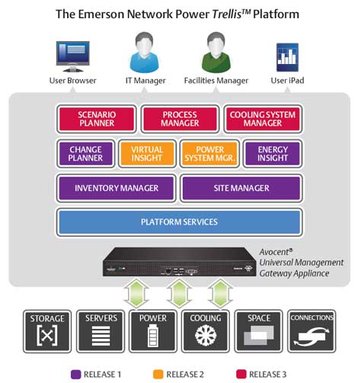 Real time device-level thermal monitoring
Trellis Thermal System Manager enables real-time, device-level thermal monitoring with 3D visualisation — including the ability to pan and rotate to better understand air temperature profiles.
These capabilities can drive energy reduction efforts by eliminating wasted cooling, ensuring timely response to thermal events in order to avoid downtime, and reducing operating costs by increasing the accuracy of thermal metrics and planning.
Trellis platform integration with Avocent DSView management software enables simultaneous remote access and inventory management — a capability unique to the Trellisplatform in the DCIM arena.
Users can access secure, IP-based remote infrastructure management and control capabilities through the Trellis platform, streamlining and simplifying access from any IT devices.