Emerson is spinning off its Network Power business, which provides electrical infrastructure for data centers and telecoms. The restructuring is intended to allow a more dynamic approach at the division. 
Although Emerson Network Power is a leader in the data center market, with some $5 billion in annual sales, its revenue declined by nine percent in the second quarter of 2015. The division - which is a straightforward distribution to existing shareholders - will allow Network Power to bring new products to market quicker, according to Emerson's announcement. It will take more than a year to complete, though - it's expected to be done by the end of September 2016.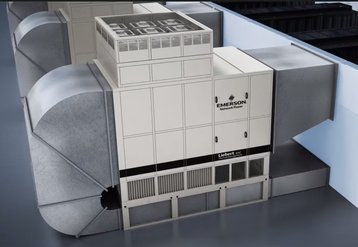 Sharper focus
"Creating two, independent companies will position both businesses to continue as leaders and to pursue distinct strategies to drive profitable growth," said Emerson chairman and chief executive David Farr. "Emerson and Network Power will each have sharper strategic focus, enabling both companies to better allocate resources, incentivize employees and allocate capital to capture the significant long-term opportunities in their respective markets."
The division is a sharp about-turn for a company that has grown by acquisition for many years, and could be just the first step in a bigger shake-up, as the company is "exploring strategic alternatives" for its motors and drives, power generation and remaining storage businesses. Emerson has units for process management, industrial automation, and climate technologies. 
Network Power will be the leading stand-alone provider of thermal management, A/C and D/C power, transfer switches, services and infrastructure management systems for data centers and the telecoms industry, says the company. It also makes the Trellis data center infrastructure management (DCIM) product.
"We are aligning ourselves with the changing global marketplace and our customers' evolving needs to drive Emerson and Network Power forward," said Farr.