Equinix is to connect to a new district heating scheme in Frankfurt, Germany.
The colocation firm has announced a new partnership with housing company Vonovia, engineering firm AS Enterprise Engineering, and investment advisor and asset manager EB-SIM to build a heating network in the north of Frankfurt Griesheim.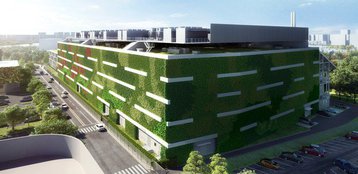 From 2025, around 1,000 households are to be supplied cost-neutrally with excess heat generated by local Equinix data centers. A total of three locations (FR4, FR6, and FR8) are set to be connected to the heat exchanger.
Jens-Peter Feidner, managing director for Germany at Equinix, said: "This project demonstrates how data centers can give back to their local community and is a perfect example of the benefits that can be achieved through collaboration between governments, investors, city planners, housing associations, heat network, and data center operators arise."
He added: "We hope that this project will arouse the interest of other potential partners. Equinix is ​​committed to pursuing waste heat sharing for local benefit in the many markets in which we operate."
FR4, 6, and 8, located at Lärchenstrasse 110 and 139-141, span more than 214,000 sq ft (19,900 sqm) in total. FR4 opened in 2010, FR6 in 2017, and FR8 in 2021.
Connecting data centers to district heating schemes is becoming an increasingly common way for data centers to find a use for excess heat generated by IT hardware.
In Germany, lawmakers are looking to bring in new regulations that could compel data center operators to connect facilities to heating networks where feasible. Digital Realty is also looking to join a district heating scheme in Frankfurt in partnership with Mainova.
Equinix is part of several district heating initiatives across Europe, including a recently expanded district heating project in Finland with energy company Helen. The Helsinki project has been running since 2010. It also looking to join a new Irish district heating system in Blanchardstown, Dublin.
In Paris, excess heat from Equinix's PA10 facility will be routed to the Plaine Saulnier urban development area and the Olympic Water Center, which will host several events during the Paris 2024 Olympic Games. PA10 also features an urban farm on its roof, heated by the data center.