Equinix today announced the opening of its fifth data center in Singapore, a greenfield facility built with an initial investment of $144 million.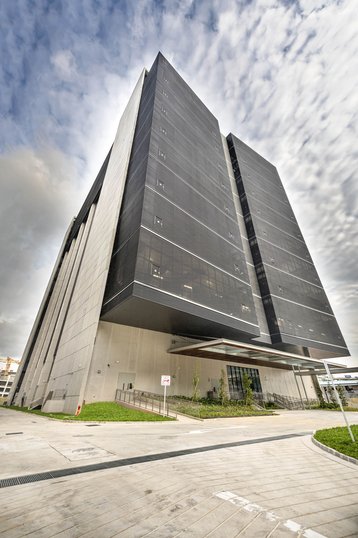 SG5 is a nine-story facility located at Tanjong Kling, formerly known as the Singapore Data Center Park. This makes it the tallest data center in the regional data center hub, at least until Facebook's $1 billion, 11-story data center is ready in 2022.
The first phase of the SG5 IBX has more than 41,700 sq ft (3,970 sq m) of colocation space, with an initial capacity of 1,300 cabinets. At full buildout, it will offer 5,000 cabinets, with a total colocation space of close to 129,000 sq ft (12,000 sq m).
Like all Equinix facilities in Singapore, SG5 is directly connected to the other four existing Equinix data centers via dark fiber. Equinix says the purpose-built facility helps address the need for a sustainable, future-ready digital infrastructure to enhance enterprises' digital resiliency.
SG5 also uses recycled water (NEWater) for its operations. The facility utilizes a bespoke surface cooling technology called the Equinix Cooling Array to support high-density customers whilst reducing water and power consumption needs. Equinix says it has operated with 100 percent renewable energy in the city-state since 2020.
"Singapore continues to flourish as the regional hub for digital exchange. Global businesses look to Singapore as the key location for where they build their digital infrastructure and leverage the ecosystem and cloud services available to ensure resilience, grow and scale across Asia-Pacific," said Yee May Leong, the managing director of Equinix South Asia.
"As Singapore continues its Smart Nation journey and towards its National Green Plan 2030, we continue to support the digital transformation of the private and public sector with commitment in action for environmental sustainability," she said.
As DCD reported in 2019, concerns over the carbon footprint of data centers in Singapore have led to an "implicit" moratorium on new data centers until 2021. Apart from SPH and Keppel's joint venture announced earlier this year, there had been no new data centers announced. SG5 is one of the final few pre-moratorium data centers to come online.