Equinix has opened an urban farm on the roof of its PA10 data center in Paris, including greenhouses warmed by waste heat from its servers.
The farm, designed by Reid Brewin Architects (RBA), includes a 430 sqm (4600 sq ft) greenhouse, surrounded by 570 sqm (61,000 sq ft) of gardens on the facility in St Denis. The urban farm, which Equinix promised when it announced PA10 in January 2022, is kept at an ideal growing temperature, using heat exchangers linked to the data center's chilled water cooling system, and sensors that monitor internal and external temperatures and humidity levels.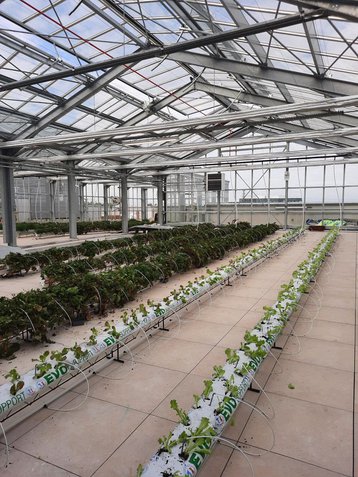 The space also uses automated sunshades, irrigation, and ventilation systems to deliver a controlled climate year-round.
The greenhouse will grow seasonal fruit and vegetables using a hydroponic system to maximize space efficiency and minimize water usage, whilst the gardens are planted with pollinator-friendly species chosen to maximize the amount of rainwater consumption; and will also have insect hotels.
RBA says the gardens are wheelchair accessible for and designed to provide naturally-shaded relaxation spaces for visitors and staff, who will be invited to share food from the greenhouse.
John Hutchinson from RBA said it is important to "increase our actions to mitigate the environmental impact of an increasingly digital world."
Farming and other forms of agriculture are among the uses regularly cited for data center waste heat, but Equinix and RBA claim this is the first time such a project has been completed in France.
Making use of data centers' waste heat is a major plank in the industry's efforts to reduce its environmental impact, but many operators find it hard to get users for the warmth they have on offer. Without a district heating system, there's not much call for waste heat.
Among the facilities already working to warm greenhouses, EcoDataCenter in Sweden has a partnership with circular economy firm Wa3rm, while Block Heating in the Netherlands has a facility colocated with a greenhouse that grows tomatoes. In Japan, the White Data Center uses waste heat to cultivate eels, while Green Mountain is giving warmth to a local lobster farm in Norway.
Over in the States, Digital Crossroad in Indiana has a farming research greenhouse.