Canadian data center operator eStruxture has acquired The Gazette's former printing facility in Montréal, a 156,000 square foot (14,492 sq m) property, located on Saint-Jacques St. in Notre-Dame-de-Grâce.
The printing press was closed in 2014, but will now be converted into a 30MW data center in a CA$150 million (US$117m) investment. The data center, which will be connected to eStruxture's existing downtown data center by a redundant fiber loop, is set to open in spring 2018. 
From bits of paper to just bits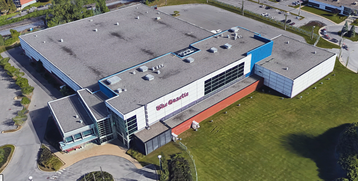 "As part of our strategy to expand and acquire data centers nationally, we are thrilled to breathe new life into this historic building, whose size and strategic location offer the perfect site to better serve the growing IT services industry in Montréal and around the world," eStruxture's president and CEO, Todd Coleman, said.
"The conversion of this printing facility is great news for Montréal as well as a compelling demonstration of the city's transition to the digital economy."
The Gazette data center will be eStruxture's second in the city, Coleman said: "International companies, especially from the United States, are increasingly establishing themselves in Montréal to meet their data center needs. We are proud to participate in this economic shift, which comes with job creation and new foreign direct investment."
Data centers locating in old printing facilities is not without precedent - with, due to the decline in print, numerous abandoned factories available, often with floors reinforced for heavy printing presses.
Last year, QTS opened in a former Chicago Sun-Times printing site, while DuPont Fabros announced plans to build in the Toronto Star newspaper's old printing plant. This year also saw Lightower open in an old magazine printing house.
Thankfully, there are some printing facilities still open - including ours, which faithfully prints our magazine every two months.