A number of European space and telecommunications players have come together to form a consortium to bid on the European Union's planned satellite constellation.
11 players have formed a partnership to bid on a European Commission's tender for the IRIS² (Infrastructure for Resilience, Interconnectivity and Security by Satellite) satellite constellation.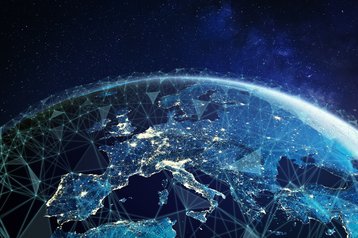 The open consortium will be governed by Airbus Defence and Space, Eutelsat, Hispasat, SES, and Thales Alenia Space. Deutsche Telekom, OHB, Orange, Hisdesat, Telespazio, and Thales are also members.
Together, the companies aim to create a new multi-orbit satellite constellation based on a multi-orbit architecture that would be interoperable with the terrestrial ecosystem.
The group said it was "well positioned" to provide commercial services that bridge the digital divide across Europe, as well as "increase Europe's global outreach and competitiveness as a space and digital power."
The EU's IRIS² system – set to launch by 2024 and be operational by 2027 – will see the EU develop 'sovereign, secure, resilient and cost-effective seamless communication services' for the Union, with the aim of reducing reliance on non-domestic counterparts such as Starlink.
The project will be financed by a trio of funds: €2.4 billion ($2.54bn) from the EU budget, plus €685 million ($724.5m) from the European Space Agency, while the rest will be covered by the private sector.
The public tender process for the right to build and operate IRIS² was launched last month. Details about the constellation the consortium aims to offer haven't been shared.
The consortium also said it will encourage start-ups, mid-Caps, and SMEs to join the partnership.
Last month also saw the EU launch a Call for Expressions of Interest to host the GOVSATCOM and IRIS² ground infrastructure.
A main site and a backup site will be selected for GOVSATCOM and IRIS², with a planned transfer of the sites to the Commission no later than the first quarter of 2024 and the first quarter of 2025 respectively. Hosting sites and associated services must be provided for an operational life of at least 25 years.
In other satellite news:
- SES aims to build an O3b mPOWER satellite gateway in Türkiye in partnership with communications firm Profen, which operates data centers and ground stations in Konya and Ankara.
- OneWeb has signed a Memorandum of Understanding (MoU) with Now Corporation to bring its satellite connectivity to the Philippines.
- The US Space Force has selected Lockheed Martin and Raytheon to develop competing Nuclear-resistant ground systems. SpaceNews reports the companies were each awarded $30 million to develop prototypes of a ground system for the Evolved Strategic Satcom (ESS) program. Boeing and Northrop Grumman are developing competing satellite designs.