Ground has been broken on a data center outside Bilbao in Spain's Basque Country.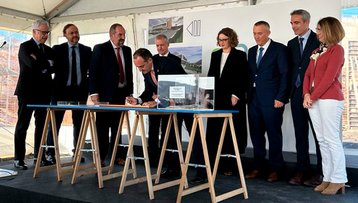 Spanish telco Euskaltel, IT consultant Teknei Group, Spanish services company Dominion, and the Basque Government this month broke ground on ADI Data Center Euskadi, a new data center project at the Bizkaia Science and Technology Park, Ezkerraldea – Meatzaldea campus.
Announced in September 2022, each installation will consist of two 1MW modules. The companies have said the data center will be the first of several that will be deployed in other locations in the region. The first facility is due live in the first half of 2024.
The foundation stone laying ceremony was attended by executives from the companies and a number of government officials, including Lehendakari (Basque President) Iñigo Urkullu.
The new Atlantic Data Infrastructure (ADI) venture is split between Euskaltel, Dominion, Teknei, and Sistemas y Treatments Automáticos – the latter two part of the Teknei Group – who each own 21.25 percent. The Basque Government owns 15 percent of the venture.
The companies are investing an initial €25 million ($27.1m) in the project, which could rise to €100 million ($108.6m) with future deployments.
Euskaltel is already present in the Bilbao technology park, from which ADI is already offering services.
A version of this story appeared on our Spanish edition.