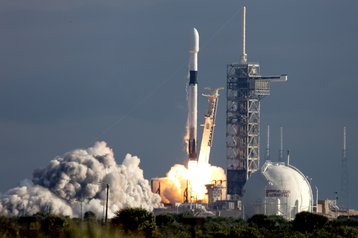 The French satellite operator confirmed its Hotbird 13F satellite was successfully launched into geostationary transfer orbit by a SpaceX Falcon 9 rocket on October 15. The Airbus-built satellite separated from the rocket about 35 minutes later, Eutelsat said.
Eutelsat's Hotbird 13F and its twin Hotbird 13G, which is expected to be launched by SpaceX later this year, will replace three aging satellites, according to Space News. The two new satellites are based on Airbus' new Eurostar Neo design, and are said to provide enhanced payload capacity, power efficiency, and thermal control systems.
The Hotbird 13F and 13G will replace the Hotbird 13B, 13C, and 13E, to provide video services over the Middle East, Europe, and North Africa. Eutelsat says the new satellites will reinforce and enhance the broadcast of more than 1,000 television channels across the regions.
Earlier this month Eutelsat accused Iran of jamming foreign broadcasts in the country from its 13C satellite. The satellite provider noted that the interferences harmfully impacted the transmission of several digital TV and radio channels broadcasting in Persian from outside of Iran.
Eutelsat said at the time it wrote to the relevant Iranian authorities and 'reminded them that intentional jamming is explicitly prohibited by the International Telecommunication Union (ITU) Radio Regulations.'
Authorities in Iran have sought to clamp down on mass protests in the country, following widespread protests in Iran over the death of 22-year-old Mahsa Amini, who was reportedly killed while in police custody for allegedly violating strict rules around wearing the hijab.
This led to protests across the country, with cybersecurity watchdog NetBlocks noting there were telco blackouts in Iran, while some outlets reported social media apps being blocked in the country.