Facebook has temporarily suspended work to expand its Clonee data center in Co. Meath, Ireland, according to reports.
The closure was agreed with the contractor, Mace, after construction workers were sent for tests earlier this month. It's not known if any workers tested positive, but the canteen has been deep cleaned, and the halt was announced to protect the health of workers and the surrounding community. Facebook has been working to expand the site since 2016.
The move comes as the construction industry faces mounting controversy. In the UK, house builders Taylor Wimpey and Barratt have closed all sites, and the government is under increasing pressure to ban all non-essential construction.
Down tools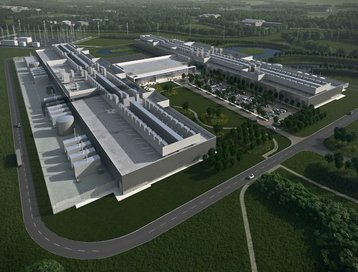 Clonee was Facebook's second data center in Europe, after Luleå in Sweden. Construction started in 2016, and plans were rapidly expanded. The facility opened in 2018, and in 2019, another increase was announced, which would double the site with two new buildings.
"Together with Mace, our general contractor on site at Clonee, we have made the decision to temporarily suspend construction at the Clonee data center," said a Facebook statement given to broadcaster RTE. "This measure is being taken to protect the health and safety of people who work on our construction sites and the wider community during the Covid-19 outbreak.
"We look forward to welcoming workers back as soon as it is safe to do so."
Some of the contractors will remain on site to secure the area, and Facebook has promised an "appreciation bonus" to those who lose their work in this case.
Three contractors were sent for tests earlier in March, after reporting flu-like symptoms, and the site's canteen was closed to be deep cleaned.
All staff working for Facebook's operations have been advised to work from home, however, it has been reported that this advice may not cover content moderators, whose work includes scanning posts for objectionable or illegal content. These staff have had to carry on working in the office because of privacy concerns over the sensitive material they are moderating.