Facebook plans to expand its data center campus in Papillion, Nebraska, from two buildings to six, with the complete campus totaling more than 2.6 million square feet (242,000 sq m).
DCD originally uncovered the company's plan to build a data center in Sarpy County early last year, and in April 2017 Facebook announced it would open two data center buildings and an administrative site in 2020. The latest additions to the campus are expected to be completed in 2023.
A long future ahead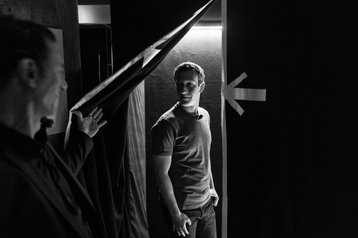 "With this expansion, we will support thousands of construction jobs for years to come and hundreds of operational positions," Jim Piazza, director of Facebook's East data center operations, said in a Facebook post.
Today, the construction of our data center has become the daily workplace of more than 1,000 construction workers, who combined have invested more than one million work hours. We have many full-time employees already on site, and more job openings to fill."
The facility will be powered by Enel Green Power's Rattlesnake Creek Wind Project, with Facebook upping its planned power purchase from 200MW to 320MW. It has also partnered with Adobe to allocate 10MW to the software company.
Facebook continues to invest heavily in data centers, such as its upcoming $750m Atlanta data center campus, as user numbers keep growing.
More than 28 percent of the world's population are "Monthly Active Users" of the social platform, and the number is even higher when WhatsApp, Instagram and Messenger users are included.
But the US figures appear to have plateaued - Pew Research Center reports that 68 percent of Americans used the service in January 2018 - the same as in 2016. Additionally, the long-term impact of the US election scandal on Facebook's user numbers and its business model are yet to be ascertained.
With US officials investigating Russia's use of the platform to influence the 2016 election, and last week's revelation that 50 million people had their Facebook profiles harvested by Cambridge Analytica so they could be targeted with political ads, calls are growing for changes in how the company operates.
"While Facebook has pledged to enforce its policies to protect people's information, questions remain as to whether those policies are sufficient and whether Congress should take action to protect people's private information," US senators Amy Klobuchar, a Democrat, and John Kennedy, a Republican, wrote.
"The lack of oversight on how data is stored and how political advertisements are sold raises concerns about the integrity of American elections as well as privacy rights."
Yesterday, shares in the company fell eight percent in afternoon trading.