The Federal Communications Commission (FCC) has granted SpaceX partial approval for its second generation of Starlink satellites.
This approval will see SpaceX allowed to construct, deploy, and operate up to 7,500 satellites.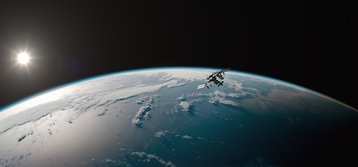 It's worth noting that this is only a partial approval, however, as SpaceX had initially requested approval for a constellation of 29,988 non-geostationary orbit (NGSO) satellites, as part of its Gen2 Starlink.
The satellites that have been approved are authorized to operate at altitudes of 525, 530, and 535 km and inclinations of 53, 43, and 33 degrees, respectively, using frequencies in the Ku- and Ka-band, confirmed the FCC.
The FCC's decision to limit SpaceX's application was done with a keen focus on protecting against orbital debris, spectrum interference, and other operators' concerns.
In the filing, the FCC notes that SpaceX was granted authority to deploy 4,425 of its first-generation Starlink satellites, while revealing that SpaceX has launched over 3,500 of its Gen1 satellites since 2018.
SpaceX says that its Gen2 satellites will provide faster speeds, lower latency, more backhaul capacity, and the ability to serve more customers.
"SpaceX says the Starship launch vehicle will carry more satellites and place them in a way that allows for faster activation, and the Gen2 Starlink constellation will build upon the Gen1 Starlink constellation by arranging satellites in a manner to maximize capacity and bring satellite broadband connectivity to unserved and underserved areas of the United States and worldwide, including areas long thought to be impossible to serve and areas facing natural or manmade disasters," said the FCC in the filing.
SpaceX launches national security-focused Starshield
Elon Musk's SpaceX has also announced the launch of its own military variation of its Starlink satellites.
Starshield, according to SpaceX's website, will leverage SpaceX's Starlink technology and is focused specifically on supporting national security efforts.
It's been designed for government use, with SpaceX stating that Starshield will have an initial focus on three areas; earth observation, communications, and hosted payloads.
Little else is mentioned on SpaceX's website, with no current partners or projects disclosed. Although the company has worked with the US government before, notably with its efforts to support Ukrainians to stay connected during the country's conflict with Russia.