Australian telecommunications provider Virtutel is planning to create a network of up to 20 edge data centers around the country. Its data center subsidiary, VirtuDC, has sought the services of Swedish manufacturer of prefabricated data centers, Flexenclosure, which will ship its modules across the globe over the course of three years.
The pair have stated that the facilities, designed to order and built to meet Uptime Institute's Tier III requirements, will allow VirtuDC to provide network and interconnection services at end-point level, and fill gaps in currently underserved areas.
Unmanned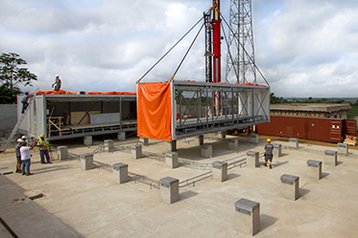 Some of the upcoming facilities will be equipped with 'dark site' functionality, allowing them to be operated, monitored and managed without human intervention, from a central network operations center.
"We selected Flexenclosure for their deep experience in deploying prefabricated data centres in very challenging environments and their flexibility in making sure that the ultimate design was exactly what we wanted," said David Allen, managing director at Virtutel. 
"We are confident that Flexenclosure is the right partner for what is to be a significant rollout of IT infrastructure across Australia."
Telcos are increasingly branching out into the edge data center market, since they have the necessary real estate and decentralized infrastructure in place. Companies like VaporIO and EdgeMicro are seeking to capitalize on the industry trend by engineering dedicated edge systems - the former in a distinctive chamber shape, the latter in modular containers. 
The Flexenclosure facilities will be the first data centers to be fully owned by Virtutel, which has points of presence in colocation sites across Australia, as well as those in New Zealand, the US, Hong Kong and Singapore.
To date, Flexenclosure has deployed 43 of its eCentre modules in 27 countries, including Colombia, Myanmar, Ethiopia, Palau and Samoa. The company also makes eSite, an integrated power system for telecommunications sites, designed for the outdoors.