Newly-launched data center company Quantum Loophole is planning to build a large data center campus in the industry's capital, Northern Virginia.
At the end of February, the business raised $13 million in seed funding with a pitch to build gigawatt-scale "data center cities."
It counts former Terremark and CyrusOne executive Josh Snowhorn as its CEO, LitBit's Scott Noteboom as CTO, and data center veteran Sylvia Kang as VP of Real Estate. Former CyrusOne CEO Gary Wojtaszek will be on the board, while Equinix co-founder Jay Adelson is an advisor.
Hoping to become one of Virginia's largest data center land owners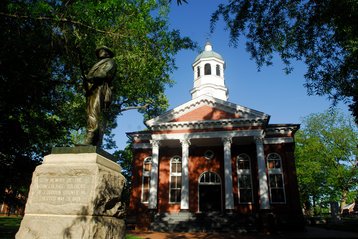 The company has found a 2,000 acre (800 hectare) site zoned for industrial use in Loudoun County, Northern Virginia, Snowhorn told Capacity.
Final contract negotiations and fundraising are underway before work can potentially begin on multiple data center projects on the site.
Loophole aims to build the 1,000MW substation and fiber ring, and then will allow hyperscalers or wholesalers to build on the site.
Site preparation is expected to begin in July, with the campus ready by the end of 2022. Snowhorn said that he is in discussions with "every hyperscaler," But it is not clear if any have signed up.
Loophole also plans to develop its own build-to-suit facilities at a later date.
"Our master plan data center cities are designed to offer Gigawatt levels of critical power, leverage cutting-edge technology to deliver connectivity seamlessly and immediately, and offer mass scale fiber to nearby networking hubs," Snowhorn said last month.
"All the while, our approach to shared infrastructure and pre-planned site approvals improves performance, expedites time to market, while solving for the expediency and scalability large-capacity data center operators require well into the future."