After 22 years of being in the lead, Intel has finally ceded the crown of the world's largest semiconductor manufacturer - to Samsung.
According to Gartner, the South Korean electronics giant shipped $61.2 billion worth of silicon, increasing its revenue by 52.6 percent over 2016. Meanwhile Intel' semiconductor operations brought in just $57.7 billion for the same period.
Samsung benefited from a shortage of memory chips, which caused considerable price increases of DRAM and flash-based products. For this reason, Gartner has warned that the company's lead might not last long.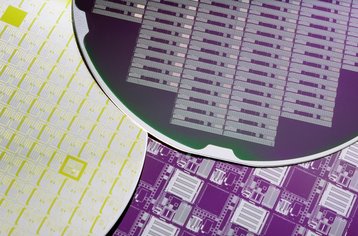 Move over, Intel
According to analysts, worldwide semiconductor revenue reached $419.7 billion in 2017, a 22.2 percent increase over the previous year.
Memory products were responsible for 31 percent of the total, with revenue for this particular segment growing 64 percent year-on-year.
"Memory accounted for more than two-thirds of all semiconductor revenue growth in 2017, and became the largest semiconductor category," said Andrew Norwood, research vice president at Gartner.
During the past 12 months, constrained supply of memory chips led to the prices of flash going up 17 percent – the first time in history that this category of products got more expensive, instead of becoming cheaper. Meanwhile prices for DRAM silicon increased 44 percent.
The chip shortage was a blessing for major memory vendors including SK Hynix and Micron Technology: the former boosted annual revenue by 79 percent, the latter - by 78.1 percent.
Intel grew its revenue just 6.7 percent in 2017, driven by 6 percent growth in data center CPU sales.
"Samsung's lead is literally built on sand, in the form of memory silicon," Norwood said. "Memory pricing will weaken in 2018, initially for NAND flash and then DRAM in 2019 as China increases its memory production capacity. We then expect Samsung to lose a lot of the revenue gains it has made."
"The combined revenues of Broadcom, Qualcomm and NXP were $41.2 billion in 2017 — a total beaten only by Samsung and Intel.
"If Broadcom can finalize this double acquisition [of Qualcomm and NXP] and Samsung's memory revenue falls as forecast, then Samsung could slip to third place during the next memory downturn in 2019."
It is worth mentioning that research by Gartner couldn't take into account the potential impact of Meltdown and Specter vulnerabilities that were made public earlier this week, affecting nearly all CPUs released by Intel since 1995. These hardware architecture flaws also affect chips from AMD, Arm and even IBM – but Intel products are thought to be the worst hit.