GDS is forming a new joint venture with Indonesia's sovereign wealth fund, the Indonesia Investment Authority (INA).
The company is also partnering with SK ecoplant to trial fuel cell power supply solutions for its upcoming data center in Singapore.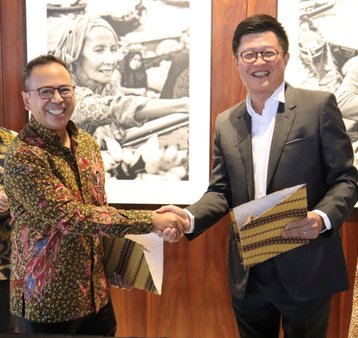 GDS forms Indonesian JV with INA
The Chinese data center operator and INA this week announced plans for a new equity joint venture as the vehicle for developing a countrywide data center platform.
The first project to be completed is the ongoing development of a hyperscale data center campus located in Nongsa Digital Park (NDP), Batam.
GDS acquired land in the Nongsa Digital Park in November 2021. The company plans to build two new data center buildings on the site, comprising a total net floor area of approximately 10,000 sqm (107,600 sq ft) and 28MW of total IT power capacity.
GDS and INA said they will also work closely to develop best-in-class data center facilities nationwide.
William Huang, chairman and CEO of GDS, said: "Indonesia is rapidly emerging as a strategic location to fulfill the growing demands of our customers for premium data center services. It is our honor to be the first data center developer and operator to join forces with INA, which we view as Indonesia's strong endorsement of our international vision, market-leading expertise, and explosive regional growth."
Huang continued: "At GDS, we are committed to creating a value-added ecosystem and fostering the development of digital infrastructure in Indonesia. By integrating our inaugural project in Batam with synergistic projects in Singapore and Johor, we are creating a unique platform ideally configured to serve the digital economy in Indonesia and the Southeast Asia region. We look forward to expanding this platform further into Indonesia in partnership with INA."
INA, Indonesia's only sovereign fund, was launched in late 2020 with $5 billion from the government. Previously, INA participated in the IPO of Mitratel and is a notable stakeholder in Southeast Asia's largest telecommunications tower owner.
Ridha Wirakusumah, CEO of INA, said: "Our partnership with GDS is more than a strategic alignment – it's a reflection of Indonesia's vibrant digital potential. We are experiencing rapid economic growth and making remarkable strides in active digital infrastructure development. Recognizing the imperative of local data center development, our collaboration with GDS not only aims at scaling our digital infrastructure, but also places a strong emphasis on supporting data onshoring and enhancing data connectivity."
GDS, founded in 2006, operates dozens of data centers across Shanghai, Beijing, Shenzhen, Guangzhou, Chengdu, and Hong Kong. It recently launched a new data center in Johor, Malaysia, and has plans for a second there.
Batam is the largest city in the Riau Islands and is located close to Singapore, on the opposite side of the Singapore Strait. Nongsa Park, developed by Citramas Group, has been granted special economic zone (SEZ) status, which provides beneficial tax tariffs.
The likes of Telkom Indonesia, Etisalat, Singtel, DC First, and PDG are also looking at developing in Nongsa Park.
GDS and SK ecoplant collaborate on Singapore fuel cell trial
GDS is partnering with SK ecoplant to trial fuel cell power supply solutions for GDS's upcoming data center in Singapore.
The company this week announced it was working with the energy and environment affiliate of South Korean conglomerate SK Group to explore sustainable green energy options for the Singapore data center facility.
GDS will explore the application of solid oxide fuel cell (SOFC) technology to generate power from green hydrogen as a main power source, as well as the supply of locally generated power from imported hydrogen sourced from energy partners.
Under the trial, SK ecoplant will collaborate with Bloom Energy to deploy SOFC technology. The trial will begin with a small-scale installation of fuel cells, initially using natural gas as a feedstock in place of hydrogen.
Once the regional hydrogen infrastructure, supply chain, and regulatory frameworks are sufficiently established, GDS and SK ecoplant will consider more widespread use of SOFC-enabled power generation.
GDS CEO Huang said: "I am thrilled about our collaboration with SK ecoplant, as it will bolster our strategic positioning and expansion in Southeast Asia. This collaboration not only enhances the green and low-carbon attributes of our data centers, but also sets the stage for large-scale adoption of green energy in the future."
He continued: "With the invaluable support from SK ecoplant, GDS is diligently working towards achieving our goals, including being the first to implement SOFC technology to power a data center, and ultimately establishing the first-ever fuel cell-powered data center in Southeast Asia."
Singapore has had a moratorium on new data center developments since 2019 (although already authorized facilities were allowed to be built after this point). However, earlier this year Equinix, GDS, Microsoft, and a consortium of AirTrunk and TikTok-owner ByteDance were granted permission for a combined 80MW of capacity under a new pilot scheme.
Specifications, locations, and timelines for each facility haven't been shared. This will be GDS' first facility in Singapore, though its investor STT GDC operates seven in the city-state.
"We will speed up targeting various commercialization fuel cell markets as we have experience in fuel cell-based power supply solutions from small and medium-sized to large-scale power generation fuel cells such as data centers and hospitals," said Kyung-il Park, CEO of SK ecoplant. "We will take the lead in exports by preoccupying the global fuel cell market through continuous cooperation with domestic companies and our partner Bloom Energy in this project."