Taiwanese original equipment manufacturer Gigabyte has severed its server division creating a fully-owned data center-focused subsidiary, 'Giga Computing'.
According to a press release, the move will "leverage the Gigabyte brand to drive server business growth and innovation'. Giga Computing will focus on the development and sale of servers and server motherboards, while Gigabyte will concentrate on consumer electronics like GPUs, laptops, desktops, and other PC components.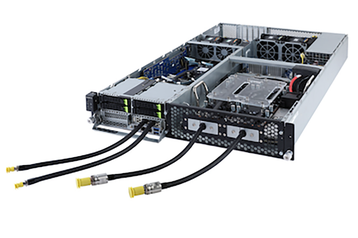 The enterprise subsidiary has an estimated value of NT$833,600,000 ($27.2 million). As part of the move, Gigabyte will receive 83,360,000 common shares of Giga Computing at NT$10 per share.
According to the press release, the split should not impact customers, and they can expect business as usual with no 'impact on the daily and financial operations of the parent company.'
"Gigabyte has been going through a transformation to elevate performance and return great value to our shareholders. This is just another extension of our long-term plan that will allow our enterprise solutions better react to market forces and to better tailor products to various markets," said Daniel Hou, CEO of Giga Computing.
"Although we go by a different name, we will continue operations as we always have, and our customers will continue all the same relationships and have high expectations from our well-established server business unit that offers a diverse product portfolio. We believe our announcement proves our commitment to creating long-term value for our customers, employees, and shareholders."
Gigabyte claims that the split will allow the companies to 'allocate capital and resources with greater efficiency and agility, focusing on core competencies, emerging markets, and high-growth opportunities'. The company describes this move as 'simply a group reorganization' and does not state current intentions to sell the subsidiary off.
In a 2021 annual earnings report, Gigabyte claimed revenues of ~$4 billion, however only ~25 percent of this comes from the company's server business. When compared to the 2022 IDC Servers Market Share analysis, this puts Giga Computing at approximately a third of the size of Supermicro's server business ($2.5 billion).
While a smaller OEM, Giga Computing has carved a niche, releasing two liquid-cooled units for HPC and AI training early last year.