Semiconductor firm GlobalFoundries has deployed BostonDynamics robot dog Spot to test its abilities around chip fab facility inspection.
In a video posted to YouTube by Boston Dynamics, GlobalFoundries conducted a test to deploy Spot at its Burlington, Vermont semiconductor fab, where it manufactures 200mm chips.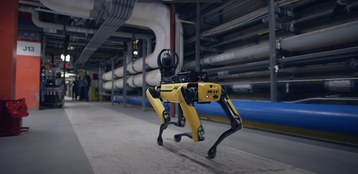 "We have a lot of equipment that's got a really long life cycle and a slow rate of change," said Samantha Garrison, Automation Lead, GlobalFoundries. "It's not economical for us to go and sensorize every piece of equipment in this really vast facility. It's probably more practical and actually quite a bit easier for us to implement to go and use the mobile robotics approach one set of sensors as opposed to fixed sensors in every location."
The company, in partnership with software firm Levatas, tested Spot to explore potential applications for using the robot for gauge reading and external temperature checks of equipment and relay alerts to the facility team if there was anything that needed to be actioned on.
Levatas makes machine learning software for the likes of gauge reading and thermal temperature measurements that can be deployed on machines such as Boston Dynamics' Spot or DJI's Inspire 2 drone.
"Spot has an amazing athletic intelligence... but doesn't know necessarily what it's looking at," said Dan Zuba, Business Development and Growth at Levatas. "We can train Spot to know what it's looking at and then to make decisions based off of that alerting; this equipment is too hot or maybe there's something trending [and] we're predicting that this needs to be fixed before it goes out."
While the companies didn't say if GF would look to procure any Spots as a result of the test, Adrian Plouffe, manufacturing and automation engineer, GlobalFoundries, said: "That data is going to give us the opportunity to better plan maintenance time and downtime and hopefully also prevent scrap events."
"We have a ton of peripheral equipment that is extremely important to keeping the fab running and so from that perspective being able to get more data about that equipment and how it's performing is really important to our team," added Garrison, adding the ability to keep the fab up and running during that implementation process was a benefit.
Novva Data Centers, a firm led by former C7 CEO Wes Swenson and backed by CIM Group, has partnered with Utah's Brigham Young University to deploy customized Spot dogs in its data center in West Jordan, Utah.
More in IT Hardware & Semiconductors