In-flight broadband Internet service provider Gogo Business Aviation has won a new airline operator deal, while also this week announcing plans to expand its 5G footprint into Canada.
The expansion into Canada will see the company further enhance its operations in North America, where it provides coverage to business aviation operators.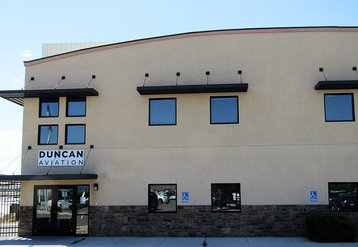 Its new airline operator deal is with aircraft service provider Duncan Aviation, the largest privately-owned business jet service provider in the world. This partnership will see Gogo actively develop several additional 5G Supplemental Type Certifications (STCs) for the Gogo 5G system and provision multiple models of popular business aircraft.
"The Duncan Aviation partnership on the active development of a comprehensive 5G STC portfolio is leading the industry as we prepare to launch 5G service later this year," said Dave Salvador, vice president of the aftermarket channel for Gogo. "There is great anticipation in the market for 5G and the enhanced inflight connectivity experience it will deliver, and these STCs are a critical component."
This deal will see Gogo support many of Duncan's various aircraft models including the Bombardier Global Express, 5000, XRS, 5500, 6000, 6500, Bombardier Challenger CL-650, CL-605, CL-604, Bombardier Challenger 300, 350, Gulfstream GIV, G300, G400, Gulfstream GIV-X, G350, G450, and Citation 560XL, XLS, XLS+.
According to Gogo, operators that have its Avance L5 air-to-ground high-speed internet system installed have the foundation required for an upgrade to Gogo 5G.
The Duncan Aviation STCs have been used for more than 265 installations of the Avance L5 air-to-ground high-speed internet system, said Gogo, noting that once these 5G STCs are complete, Duncan Aviation will 'perform the installations at its full-service facilities in Battle Creek, Mich., Lincoln, Neb., Provo, Utah, and many of the company's 26+ satellite locations'.
Gogo all set for Canadian 5G expansion
This week has also seen Gogo outline its expansion strategy for the Canadian market. The company said that it expects to complete its network expansion into Canada in 2024, as it looks to build on its existing business in the US.
"Building on our nationwide network in the contiguous United States, and expanding into Canada will allow our customers to realize enhanced inflight connectivity in more destinations and routes where they fly," said Sergio Aguirre, Gogo's president and chief operating officer. "We have been planning for this and I know our network deployment and field operations teams are ready to execute."
According to Gogo, its 5G is tipped to deliver speeds of 25 Mbps on average, with peak speeds in the 75-80 Mbps range.
Its 5G leverages its Avance platform system, while the firm also revealed that its 5G chip passed a critical design review earlier this year, and Gogo remains on track to launch in the fourth quarter of 2023.
Last year, Gogo notably signed a distribution deal with LEO satellite operator OneWeb to sell OneWeb's high-speed, low-latency inflight broadband services to business passengers globally.