Google has called on Irish regulators not to enforce any moratorium on data center development in the country.
In a submission to the Commission for Regulation of Utilities (CRU), the search and cloud firm said any moratorium on data center development needed to be avoided "at all costs."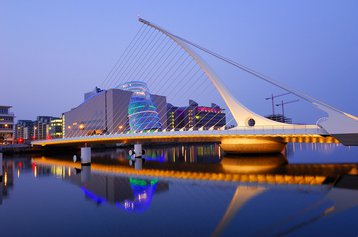 First reported by the Irish Times via a FOI request, Google added that any such ban would send the "wrong signal" about Ireland's ambitions as a digital economy and render any further investments in its infrastructure in the country "impossible."
In the submission, Google called for more transparency over where there was existing electricity capacity in the Irish network, adding that there needed to be greater clarity and openness over EirGrid projections on forecasting the growth of data center electricity usage.
Ireland's state-owned electric power transmission operator EirGrid has imposed a de facto moratorium on new data center developments in the greater Dublin area, saying it will only consider new applications for connection to the grid on a case-by-case basis in the wake of a Commission for Regulation of Utilities (CRU) decision to limit their impact. The restrictions could reportedly last until 2028.
IDA CEO Martin Shanahan recently said new data centers "are unlikely to happen in Dublin and the East Coast, at this point."
Google - which launched its first data center in Ireland in 2012 - proposed a new tariff system for data center operators who reserved more capacity than they ultimately needed, or were too slow to grow into that capacity.
"Transmission charging can be designed such that consumers whose demand is not increasing towards their maximum reservation are charged more than those that demonstrate each year that they are growing," it said.
Though EirGrid and politicians have previously suggested locating more data center developments in the west of Ireland – away from the constrained areas of Dublin and closer to sources of renewable power – Google noted this wasn't a feasible solution.
"Demand for cloud computing in Dublin is growing," it said, "and many cloud services must be delivered by data centers close to the user, that is these services cannot be delivered as needed by customers by data centers located far from Dublin."
A separate submission from AWS said Ireland had missed opportunities in the past to deal with supply issues.
"During the previous decade, there were opportunities to deploy reinforcements, prepare the grid for growth and investment, and equip the grid for the integration of more intermittent resources."
Both the Social Democrats and People Before Profit have called for a nationwide moratorium on future data center projects in the last 12 months; the PBP's bill would have placed an absolute ban on data centers, Liquid Natural Gas plants, and new fossil fuel-related infrastructure.
In Dublin, South Dublin County Council (SDCC) last month voted to prevent future data center construction in the county as part of its new draft development plan.
EirGrid has previously warned that data centers already use more than 10 percent of the country's electricity supply, and this could grow to 30 percent by 2030, potentially causing "rolling blackouts" and making it impossible for the country to meet its targets to decarbonize its grid so that 80 percent of the nation's electricity must come from renewable sources by 2030.