Google will invest $10bn in US data centers and offices, slightly down from its $13bn spend last year.
The infrastructure investments will be focused on 11 states: Colorado, Georgia, Massachusetts, Nebraska, New York, Oklahoma, Ohio, Pennsylvania, Texas, Washington, and California. The majority of these projects were already known, but the total spend was not detailed.
American build out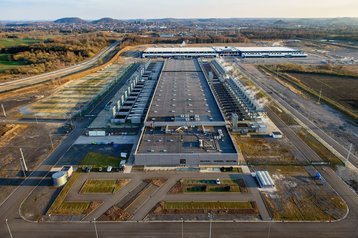 In the South, Google will increase its offices in Atlanta, Georgia, and expand its offices and data centers in Texas, Alabama, South Carolina, Virginia, and Tennessee.
Over in the Midwest, it will open a new data center in Ohio, and complete the expansion of its data center in Iowa. It also plans an office expansion in Detroit.
In the Central states, it will grow its data centers in Nebraska and Oklahoma. The company also said that it has "the capacity" to double its workforce in Colorado over the next few years.
As for the East, it will open large New York City building in Hudson Square. It's also expanding its offices in Pittsburgh, and has started work at a bigger office in Cambridge, Massachusetts.
Out West, Google will expand its Cloud campus in Seattle and will build more space in neighboring Kirkland. The company said that it will make office and data center investments in Oregon. In California, Google will "continue to invest in new locations in the Bay Area and Los Angeles."
"Combined with other R&D investments, Google's parent company Alphabet was the largest investor in the US last year, according to a report from the Progressive Policy Institute," CEO Sundar Pichai said in a blog post. Google is a financial contributor to the PPI, a center-left think tank.
The investments come as Google Cloud appears to be restructuring. Earlier this year, the division laid off an unknown number of staff members. "We made the difficult, but necessary decision to notify a small number of employees that their roles will be eliminated," the company said in a statement.
In early 2018, senior Google executives reportedly debated the direction of the company's cloud division, setting the goal of becoming a top-two player by 2023. At the time, the company considered reducing its cloud spend should it fail.
With Google behind both Microsoft Azure and Amazon Web Services, that target may be difficult for the company to meet. But the division has shown no signs of slowing down its spend: This year, it closed its $2.6bn Looker acquisition, acquired mainframe migration company Cornerstone Technology, and signed a $500m reseller deal with SADA Systems.